SRL Traffic Systems has increased its variable message sign (VMS) fleet size by over 150% and is set to expand its dedicated VMS team.
Cheshire-based SRL has announced the senior appointment of Tony Logan as its first head of ITS.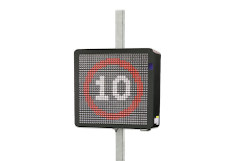 Mr Logan brings 18 years ITS experience to a role that will see him head an expanded, dedicated VMS and related products division. He joins SRL from international ITS supplier Redflex, where he was senior UK and European business development manager.
In a statement, SRL said the moves reflect strong demand by traffic and events management companies and advertisers.
It also follows the launch of SRL's exclusive UK and Republic of Ireland distributor partnership with international ITS manufacturer Swarco in spring 2019 - following which SRL secured scores of the Swarco's VMS and achieved a fleet size of over 200.
SRL has now widened customer choice, with the addition of a new category to its Swarco portfolio, comprising an initial order of 50 portable, 32 x 32 pixel, red green blue (RGB) activated signs.
The portable signs are the smallest in SRL's portfolio and are designed to display concise information. For instance, they may be used to warn road users of temporary traffic lights up ahead, or to convey speed limits in situations where space is at a premium, such as car parks and construction sites.
Created to an original brief by SRL's hire division MD, Malcolm Johnstone, they feature integrated vehicle activated detectors, facilitating easier portability and installation than those needing supplementary detectors, and requiring minimal storage space.
They also incorporate internal radar, GPRS communications, battery monitor and GPS location, and are controlled via Zephyr, Swarco's control system.
The expansions of SRL's VMS fleet and human resource is marked by the launch of a new corporate website (www.srl.co.uk).
SRL's chief executive officer, Richard Tredwin, said: 'Since SRL's foundation in 1997, the company has been an industry pioneer, developing - and achieving Type Approval for – the UK and Republic of Ireland's first multi-phase temporary traffic and pedestrian systems.
'The rapid expansion of our SWARCO VMS fleet, along with the introduction to the company of the highly experienced Tony Logan, will help us to remain at the forefront of the ITS sector.
'We are committed to ongoing investment in both product and service, and look forward to announcing in coming months further new developments that will benefit the traffic management, events, utilities, construction and advertising sectors.'