Cheshire-based ITS equipment provider SRL has released new adaptive traffic management technology to increase vehicle flow for temporary traffic signals.
The Adaptive Detection System (ADS) monitors traffic flow and uses an algorithm to adjust the length of each signal cycle in response to traffic volumes, 'including the accommodation of HGV start lag'.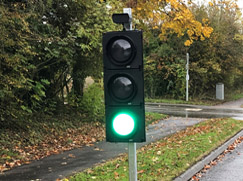 'The company's extensive trials of the solution indicate that the ADS can give an additional 50% efficiency by upgrading standard traffic light detectors, quickly clearing each queue on every cycle following simple and swift deployment, reducing congestion,' an SRL spokeswoman said.
It can be used in conjunction with SRL's new Eurolight Master temporary and portable traffic signals and offers four-way control with advanced radar detection.
SRL has also enhanced its CCTV offer with what is thought to be the industry's first portable CCTV to provide the complete 360 degree panoramic view and 180 degree view beneath the camera.
'The 360 Monitoring Portable CCTV features the latest embedded 2tb industrial grade solid state drive (SSD) and an Axis camera capable of generating clear images in total darkness,' SRl said.
Multiple units of the 3,350mm(h) x 550mm(w) x 760mm(l) product can be configured to create a single, scalable solution that can be viewed remotely via smartphone or PC on one system.
SRL's chief executive, Richard Tredwin, said: 'The key to SRL's success has always been to listen carefully to customers and to develop products that they tell us they need – not just what we think they need.
'Both the ADS detector and 360 Monitoring Portable CCTV have been created in response to customer demand, and as a result, we're pleased to say that both are already generating strong interest from organisations striving to minimise congestion and improve site security.'
SRL's ADS detector and 360 Monitoring Portable CCTV are available for hire as well as purchase.
The launch of the new products follows SRL's expansion into the high speed and compact VMS markets this summer.