The AA has warned that delivery firms could respond to Clean Air Zones by adding to the ever-increasing number of vans on the road, worsening congestion and pollution.
The warning from AA president Edmund King follows publication of the Department for Transport's Road Traffic Estimates: Great Britain 2018, which shows van traffic reaching a record high of 51.0 billion vehicle miles (bvm).
Overall, 328.1 bvm were driven on Britain's roads in 2018, a 0.3% increase on 2017. Car traffic also remained broadly stable, increasing by 0.2% compared to 2017.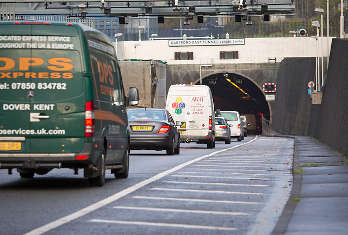 However, the figure of 255.0 bvm is the highest annual estimate ever of car traffic, officials said.
Motorways carried 69.0 bvm of traffic, a 0.5% increase compared to 2017 and 10.9% more than ten years ago.
The strategic road network as a whole carried 94.7 bvm, representing a new high and one-third of all motorised traffic in England.
A roads saw a 1.4% rise in traffic from 2017 while minor road traffic decreased 1.3%.
In 2018 van traffic grew by 0.9% from 2017, with officials stating that there has been a slowdown in the growth of van traffic over the last two years, although van traffic almost doubled in the 25 years since 1993 – the fastest growth in percentage terms of any motor vehicle.
Mr King said: 'While home deliveries are still on the rise, the increase in van traffic also provides insight into how freight companies might be changing their fleets in the wake of CAZ.
'Many towns and cities looking to introduce CAZ will impose fees on big trucks and lorries, so in an effort to beat the charge, a convoy of vans could replace a single lorry. This in turn would have an adverse impact on local areas as there would be additional vehicles on the road, creating more congestion, and more pollution.'
Between 2017 and 2018, lorry traffic remained broadly stable, increasing by 0.3% to 17.1 bvm while pedal cycle traffic (cyclists on public highways, and the cycle paths and footpaths adjacent to them) was 3.3 bvm, up 1.8%.
Vehicle miles by buses and coaches fell 4.7% to 2.3 billion, down 20% over 25 years.