A UK company developing technology for driverless vehicles has started data gathering in two London boroughs as part of its plan to trial a shared driverless passenger service in London next year.
Croydon Council said that up to 10 FiveAI vehicles will be driven for 10 months by fully trained, safety drivers 'in the same way as any normal, road-going vehicle'.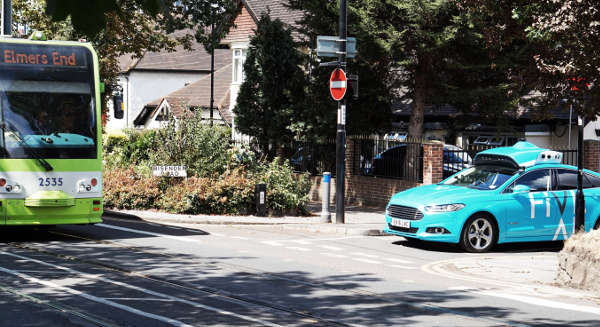 It said the vehicles, which will also operate in Bromley, are not demonstrating autonomous technology at this stage but feature an array of front-facing sensors on the roof, and are clearly branded to ensure full transparency.
Ben Peters, co-founder and VP product at FiveAI, said: 'Throughout this exercise we want to keep residents informed about exactly what we're doing, and why. We've been working closely with Croydon Council, Transport for London as well as all of the necessary authorities to ensure that this exercise is safe and fully compliant with UK law.'
Stuart King, Croydon's cabinet lead for environment and transport, said: 'Automated vehicles have the potential to improve access to transport especially in the less well-connected areas of the borough and they offer an exciting opportunity to widen travel options for our residents.'
The data gathering exercise will happen at different times of the day and night and is designed to enable FiveAI to gain a comprehensive understanding of the road environment and the behaviour of all road users including drivers, cyclists and pedestrians.
The data collected includes imagery for object recognition and geometry to measure distance.
The council said it will be used solely to develop FiveAI's driverless vehicle technology, will be processed and stored in full compliance with UK and EU law, and will not be used in conjunction with other datasets that could be used to identify individuals.