Highways England has released images showing how it plans to transform a historic bottleneck in Northamptonshire as part of a major upgrade.
The government-owned company is developing a £21m scheme to improve the A45/A6 Chowns Mill junction, with the aim of reducing congestion and increasing capacity on the road.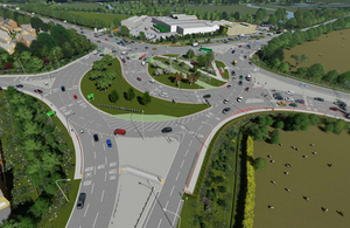 Work will include widening the A45 and A6 approaches to provide additional traffic lanes, creating an additional roundabout section on the south side of the existing roundabout and introducing traffic signals.
The A45 is a key link between the A14 and M1, serving the growing Northampton, Wellingborough and Rushden areas.
As part of the scheme the junction will be redesigned as a 'half hamburger' layout, with a new link road connecting the A6 North and A5028 with the existing roundabout.
All approaches will be widened to provide extra lanes and increase capacity.
Project manager Rachael Langfield said: 'Chowns Mill roundabout currently suffers from severe congestion at peak travel times, leading to long queues on all approaches. This congestion will increase as traffic levels grow.
'The scheme we have developed will improve journey times and safety along the A45 and A6 corridors as well as boost capacity to support planned growth in the local area, which is great news for the local and regional economy.'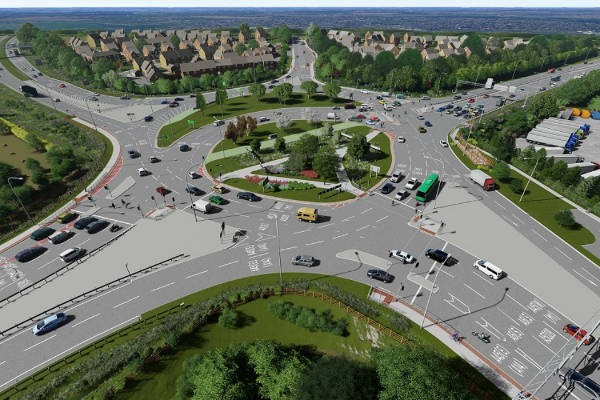 Highways England said the work will also:
improve safety by changing the junction layout and introducing traffic signals – managing the flow of traffic through the junction more effectively and reducing the chance of collisions
support economic growth by encouraging continued investment in the regional economy and support new business and residential opportunities
improve access for cyclists and pedestrians thanks to new signalled crossings which will make it safer to cross the junction - all crossing points will be designed for users with disabilities Construction is due to begin in late 2019 and is expected to be completed within two years.