The asphalt surface course on a section of the M25 has been laid using '50% recycled content' - thought to be the highest level of recycled content ever used on the strategic road network.
The surface course contained 50% high polished stone value (PSV) recycled aggregate and was developed and laid by FM Conway in collaboration with surfacing business partner Toppesfield and Skanska UK.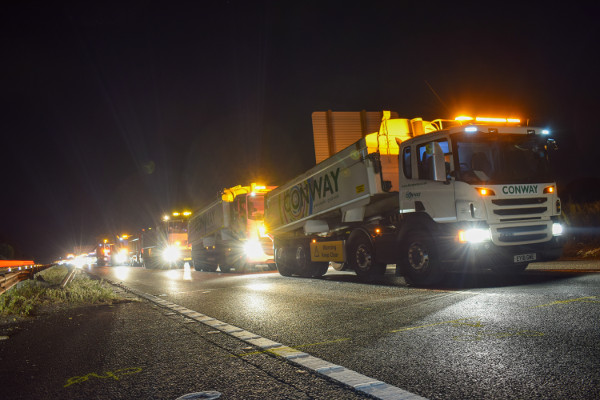 A total of 260 tonnes was laid on the inside lane between Junctions 25 and 26 during an overnight closure in September, to a depth of 45mm.
Permission for a departure from standard - which only allows for 10% reclaimed asphalt pavement (RAP) content for motorways and A-roads - had to be granted by Highways England for this project.
Kent-based FM Conway had previously supplied surfacing material with 50% recycled aggregate to two roads on Transport for London's network: the A1 and the A40.
The surfacing material was made by mixing the RAP with virgin aggregate and FM Conway's own designed and manufactured polymer modified binder (PMB) to improve the durability of the surface course by raising the resistance to rutting and cracking.
FM Conway took 24 core samples before planing on the sites and tested them in its laboratory to ensure the material would be suitable.
Mark Flint, technical manager at FM Conway, said: 'Extensive core sampling and testing was imperative as we were looking for the correct grade of aggregate as well as the right polished stone value. Being able to carry out the research and development at our Technology Centre and engineer a bespoke PMB at our PMB plant was beneficial to the success of the mix.
'Quarries and bitumen won't last forever, but there is a quarry out there – in the form of existing roads – that we can tap into and use. We can stop importing so much material and bring it from only a few miles away.'
PSV is an important measure of the skid resistance of the surface. Motorway surfaces require stone with a high PSV.
Paul Phillips, technical director at Toppesfield, said: 'Our collaborative process of research and development is to ensure that the resulting material is at least as good as the generic. The core sampling was an important part of the process as was the engineering of a complimentary PMB to provide a mix composition fit for its intended purpose. This collaborative approach by Toppesfield and FM Conway demonstrates support of the circular economy ethos and upholds the three pillars of sustainability.'
The planings from the donor sites were taken to FM Conway's Colthrop recycling plant near Thatcham in Berkshire, where they were crushed, screened, tested, segregated and stored. The day before the material was due to be laid, the planings were transported to the company's Heathrow recycling and asphalt plant for mixing.