FM Conway has re-secured a contract worth up to £60m with Merton Council to deliver highways works and services, extending their long-term partnership for at least the next seven years.
FM Conway and Merton Council have one of the longest running partnerships in the sector, having worked together for more than 40 years and delivered transformation schemes including the regeneration of Mitcham and Wimbledon town centres.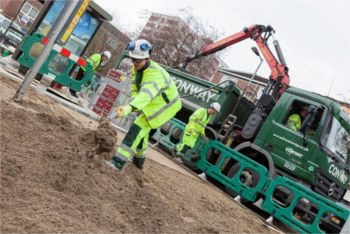 London has become a stronghold for the firm and in a city struggling with air pollution issues, FM Conway said its ability to support Merton's environmental strategy and 'Healthy Streets Approach' stood it in good stead to win the deal.
FM Conway is 'currently recycling 100% of the borough's used road materials with a continued focus on maximising the use of recycled asphalt content across the network,' it said in a statement.
The new contract is due to start on 1 November and will run until 2026 with an option to extend the partnership for up to an additional three years.
It covers highway maintenance, surfacing, footway reconstruction, structures, drainage and water management, traffic management and public realm regeneration projects.
James Tallon, term maintenance director at FM Conway, said: 'Merton continues to be our flagship borough and this contract win is testament to the lasting partnership we have created together.
'Over the past four decades we have built up a detailed understanding of the area, the residents, the visitors and the local character of the borough and we look forward to an exciting future building on our past successes and driving new innovations and sustainable solutions to the benefit of everyone in Merton.'
Merton Council's cabinet member for regeneration, housing and transport, Cllr Martin Whelton, said: 'FM Conway has been one of Merton's key partners for the past 40 years and we have worked closely with them on a number of projects and on the maintenance of highways and footpaths along with ensuring they are at high standard.
'This contract is a significant investment in the council's commitment to maintaining and improving the key infrastructure in the borough.'