National Highways has launched a consultation for the upgrade of the A358 in Somerset, seven years after prime minister David Cameron announced that the scheme would be one of three major schemes in the key A303 corridor.
The planned upgrade of the A358 will see a single lane stretch of carriageway between the M5 at Taunton and the Southfields roundabout upgraded to dual carriageway.
In 2014, Mr Cameron announced £2bn for three schemes in the A303, including the A358 dualling and the tunnel at Stonehenge, under the first Road Investment Strategy (RIS 1, 2105-20). Though none of the schemes started work under RIS 1.
National Highways said the consultation, which runs to 22 November, will help it develop its application for a Development Consent Order (DCO) to be submitted 'next year'.
A spokesperson told Highways that, if granted, it expects works to start in late 2024/early 2025, i.e. just before the end of the current RIS and for the upgraded route to be open for traffic in 2028.
In March it awarded a £328m contract to design and deliver the scheme to Taylor Woodrow Plus.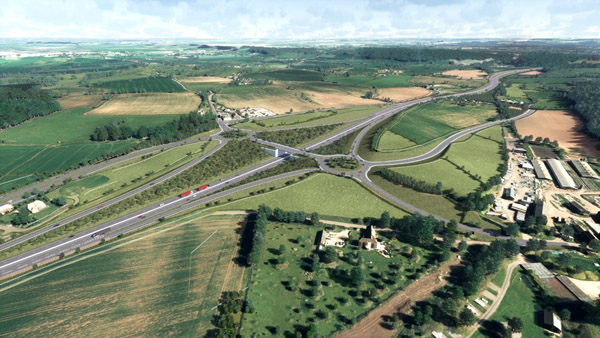 Visualisation of the proposed Mattock's Tree Green junction looking east towards the A378 and Wrantage
Senior project manager for the scheme Katherine Liddington said: 'We plan to build approximately 8.5 miles of new dual carriageway, which will considerably improve road safety, reduce traffic congestion and improve connectivity for road users and local communities, while unlocking economic growth in Somerset and beyond.
'Since announcing our preferred route for the project in 2019 we have been working to refine the preliminary design for the new road. We've made some improvements to our proposals, which will improve access safety to local roads and reduce the impact on communities, the environment, and the local landscape.'
Local MP Rebecca Pow added: 'The A358 upgrade has been a long time coming and a great deal of progress has been made to reach this stage.
'It is as important as ever that the A303/A358 corridor is improved as this is vital to unlocking the region. I hope as many people as possible will take part in the consultation.'
Paula Hewitt, Somerset County Council's lead director for economic and community infrastructure, said: 'The A358/A303 is an incredibly important main transport artery for Somerset and this major project is vital for future growth in the county.'