Andy Pickett is a senior asset management consultant at Hyperion Infrastructure Consultancy and a long standing member of the UK Roads Liaison Group's Footways and Cycleways Management Group (FCMG). In this article, he discusses the role of the highways code of practice, Well-managed Highway Infrastructure, in increasing active travel.
The benefits of increasing levels of walking and cycling are widely recognised and in recent years there has been considerable progress - and investment - in promoting these benefits through improvements to infrastructure and planning for the development of walking and cycling networks.
In contrast, the role of well-managed and maintained roads, cycleways and footways in encouraging active travel has received less attention. Maintenance of walking and cycling infrastructure is largely reactive and determined by safety risks, rather than being based on a clear understanding of how the serviceability of the infrastructure affects decisions on active travel.
It would seem self-evident that that factors such as comfort, convenience and attractiveness of the infrastructure would come into play too, but many highway authorities are constrained in resources for maintenance and operations and are limited to addressing immediate safety risks rather than maintaining a level of service that would make active travel the first choice.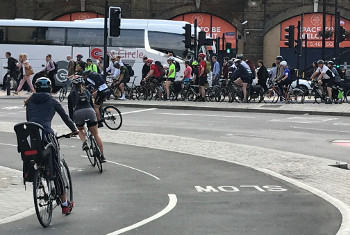 When we talk about level of service of walking and cycling infrastructure, whilst condition of the surface and factors such as potholes, ride quality, slipperiness are important factors, there are other aspects that affect the user experience and which can be influenced by asset management including lighting, standing water, overgrowing vegetation, condition of signage, condition of markings, obstructions, cleanliness, and the management of works.
Previous research has identified generally high benefit-cost ratios (BCRs) associated with the improvements to and the provision of new walking and cycling infrastructure.
In 2015, DfT published Investing in Cycling and Walking: the Economic Case for Action, which identified 'a strong business case for investing in cycling and walking' and quoted a range of positive BCRs indicating high or very high value for money from investment.
The associated benefits include:
Health/fitness
Air quality/reduced emissions
Congestion relief
Journey quality
Economy
Although the high value for money from investing in walking and cycling is widely acknowledged, the benefits which underpin this are largely associated with the provision of new infrastructure.
There is very limited research into the extent to which the delivery of these benefits over the service life of walking and cycling infrastructure (WCI) is dependent upon there being an adequate maintenance and asset management regime in place, and how the lack of sufficient maintenance and asset management degrades those intended benefits.
The Government's Cycling and Walking Investment Strategy (CWIS), published in 2017, sets out its ambition 'to make cycling and walking the natural choices for shorter journeys, or as part of a longer journey'.
The CWIS aims to increase levels of walking and to double levels of cycling by 2025. However, the recently published Walking and Cycling Statistics, England: 2017 showed that levels of cycling have remained at a similar level from previous years (although the average mileage increased) and walking trips have increased (although average distance did not).
At current rates of progress this target is going to be challenging and, in my view, the role of ongoing asset management of infrastructure in promoting active travel should not be overlooked.
'If we can increase levels of walking and cycling, the benefits are substantial. For people, it means cheaper travel and better health. For businesses, it means increased productivity and increased footfall in shops. And for society as a whole it means lower congestion, better air quality, and vibrant, attractive places and communities.' (Cycling and Walking Investment Strategy, 2017)
As part of this strategy, local authorities are encouraged to develop Local Cycling and Walking Infrastructure Plans (LCWIPs). These focus on the development of walking and cycling networks at a local level, but do not cover ongoing asset management standards and levels of service for those networks and the role of maintenance and asset management in encouraging walking and cycling.
The FCMG, part of the UK Roads Liaison Group (UKRLG) structure, has a remit 'to champion the role of good maintenance and asset management practices in realising the benefits associated with increased levels walking and cycling' by sharing experiences and good practice and by carrying out research.
A recent research project on Cycle Service Levels and Condition Assessment - carried out for the FCMG - considered those aspects of levels of service that can be influenced by asset management activities. FCMG carried out research with cyclists in London to determine what aspects of condition and serviceability are important to them; while potholes and aspects related to smoothness of ride were high priority, standing water, lighting and other issues were also identified as important.
In my view, the initiatives underway to promote active travel through the development and improvement of walking and cycling networks and through education, training and communications need to be supported by effective maintenance and asset management regimes if the challenging targets set by the Government for increased levels of walking and cycling are to be met.
The FCMG has already made some progress in this area, and those responsible for policy, funding and asset management at national, regional and local levels have an important role to play in:
Recognising the importance of well-maintained and managed infrastructure in encouraging active transport when formulating policy and allocating funding
Developing an understanding of the impact of the quality of walking and cycling infrastructure over a whole life upon decisions to walk and cycle for shorter journeys, and to investigate the relationship between the cost of maintenance and the benefits of increased cycling and walking in order to inform planning and investment (the FCMG is currently seeking funding for research in this area)
At the local level, to develop a more co-ordinated approach between those responsible for transport planning and developing LCWIPs and those responsible for ongoing maintenance and management of walking and cycling networks to ensure that the intended benefits of improvements are delivered over the whole life of that infrastructure
A recognition that although safety-related risks are one important factor driving maintenance of walking and cycling infrastructure, other factors relating to comfort, ease of use and amenity will also influence the take up of active modes and should be taken into account when determining asset management regimes and allocating funding
When considering cycling on the carriageway rather than on dedicated infrastructure, recognise that the risks that affect cyclists and the associated quality of service are different from those required for motor vehicles and to formulate asset management standards accordingly (the FCMG is also promoting work in the this area to provide guidance on risks to cyclists for local authority maintenance practitioners and inspectors).
Ultimately, it is only when strategy, investment and asset management regimes are tailored to the needs of non-motorised users based on a sound understanding of their needs, rather than adapted from the approach used on carriageways for vehicular users, can asset management fully play its part in achieving the Government's cycling and walking targets and the benefits that come from having a more active population.