Structures that aim to help bats cross the £205m Broadland Northway in Norfolk are not working effectively, according to a report to the county council.
The report was produced by Mott McDonald in September 2019 to look at the impact of the new road, previously known as the Norwich Northern Distributor Road, one year after its opening.
It notes that while no dead bats were found during surveys and more bats are crossing the road at a safe height (above 5 metres) than at an unsafe height, 'there is still a notable proportion of bats crossing at lower levels, and are therefore at risk of vehicle collision mortality'.
Although the report found that across all bat gantries, 58% of bats were observed to be crossing at safe heights, only 48% were found to be crossing within a distance of the gantry (5 metres) that meant they could be considered to be using it – a figure that fell to 32% if a distance of 2 metres was used.
A briefing from the council stated that surveys carried out in Spring 2019 found that only six of the seven bat crossings, built at a reported cost of £1m were being used at all.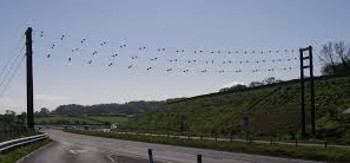 Pictured right: the most common bat gantry design in the UK – steel wires with plastic spheres at intervals that are intended to be acoustic guides for bats
Bat expert Dr Anna Berthinussen, whose research was quoted in the report, told the BBC it was likely the council's attempts to mitigate the impact had failed.
She said: The evidence in the report suggests that actually no, these structures are not effective, they're not meeting their purpose,' she said.
Dr Berthinussen said it was 'quite striking' how few bats there are at any of the crossing points, adding that this was 'almost certainly down to the impact of the road'.
She said: 'Bats may be avoiding crossing the road or disturbance caused by the road may have driven bats away from the area.' But just 49% of bats were flying close enough to the bridges to be considered to be using them.
Cllr Martin Wilby, the council's cabinet member for road and infrastructure told BBC Radio Norfolk on Monday that some of the bridges had worked.
He said: 'The report clearly shows that some of the bats have been using some of the gantries of the bridges. It's early days.'
With regard to the gantry that has not been used, Cllr Wilby said: 'They're new structures and most of the others have.'
The BBC also reported that bats have been found close to the location of the new 3.9 mile Norwich Western Link dual carriageway.