North Yorkshire County Council's newly-formed highways company has appointed Ross Bullerwell as its managing director.
Mr Bullerwell is currently MD of Rennicks (UK) Ltd, which is involved in traffic signs innovation, developing and supplying road traffic signs and technology.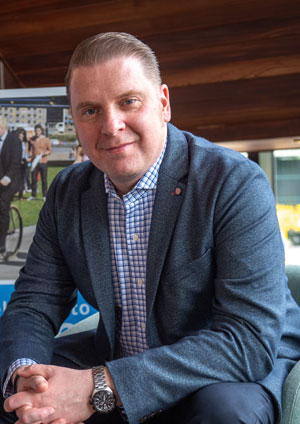 He has extensive experience of running contracting businesses.
He said: 'To be in at ground level on a major new business such as NY Highways is a fantastic opportunity.
'I can't wait to get started.
'NY Highways offers me the chance to work on delivering the best quality highways service to the residents of North Yorkshire, efficiency matched with a truly localised and tailored feel.'
The council said it created NY Highways Ltd to provide greater flexibility in the way it delivers highway maintenance work on the county's 5,750 miles of roads, - the largest network in England.
It said that with the current contract nearing completion it wants to ensure it can face the challenges that lie ahead through greater flexibility and a more local focus whilst maintaining service levels.
David Bowe, the council's corporate director and non-executive director of NY Highways Ltd, described the creation of NY Highways as 'an exciting opportunity for the county council', adding: 'The appointment of Ross Bullerwell is an important step forward by the company.
'Given Ross' background and experience, this appointment puts us in a very strong position for the future.'
Mr Bullerwell will be joining the company in September and the new company will begin operations next June.
The county council currently delivers its highway maintenance work through a contract with Ringway that is currently worth in the region of £40m a year.
It said that although this arrangement has delivered significant improvements to the condition of its highways network, an assessment of future service challenges concluded that the preferred option for the delivery of the operational highway maintenance service was a 'Teckal' company.