The Chevron Group has bought Belfast-based Highway Barrier Solutions Ltd (HBS) for an undisclosed fee.
HBS is a specialist in vehicle restraint systems and traffic management services, with depots across Northern Ireland and Scotland, employing around 130 people.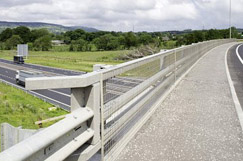 In the year ending March 2021, HBS reported to Companies House that its turnover £17.2m generating profit before tax of £4.5m. It also had a balance sheet position of £8.5m.
Chevron Group CEO Tim Cockayne commented: 'This is an exciting acquisition which compliments the existing temporary traffic management services that the Chevron Group currently offers and represents an expansion into a new market. Additionally, as the company is headquartered in Northern Ireland this will open a new geographical market for us.'
Nigel Dougan, co-founder of HBS, commented: 'This acquisition represents a key milestone in HBS's history and will secure the long-term growth of our business. HBS and Chevron share similar values with a clear focus on safety, innovation and our people, and we are both committed to building for the future.'
The Chevron Group includes Chevron Traffic Management, Chevron Green Services, Chevron Green Consultancy, Class One Traffic Management, HRS and Shift Traffic Events.
The Chevron Group is part of an international work zone safety group of companies including AVS, Fero and Ramudden.
The acquisition completed on 22 December 2021.