Cheshire West and Chester Council has revealed plans for the delivery of its Highways Service, which include delivering most small-scale maintenance services in-house.
The council carried out a public consultation exercise last year ahead of the expiry of its 10-year maintenance contract with Ringway Infrastructure Services Limited in October 2022.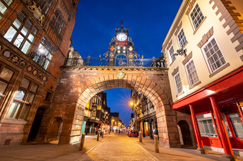 A new Technical Partner Term Maintenance Contract (Hybrid) model for the delivery of highway services was agreed by the council's cabinet last week.
Deputy leader and cabinet member for environment, highways and strategic transport, Karen Shore, said: 'The preferred model involves using a technical partner, engaged via a procurement process, to carry out all large-scale schemes and specialist programmes such as surface treatments and resurfacing.
'However, a number of highway operations will be sourced in-house; this includes reactive/routine maintenance, gully/drainage cleansing, and winter services. This method of delivering our services will provide greater flexibility and control, improve communication channels for customers and directly address many of priority issues raised during the extensive consultation while securing valuable contributions from a technical partner.'
The council said its new model means it will be bringing most small-scale operations such as potholes, gullies, and out of hours services back in-house from October 2022.
All large-scale schemes and programmes such as resurfacings, surface dressings, will still be carried out via a contract with the technical partner to be appointed following a procurement exercise.
All current highways grass and hedge cutting, weed control and sweeping operations will be transferred to the council's StreetCare service from 1 April 2021.
The council said that part of the case for change is its climate emergency declaration and the future model presents a number of opportunities in reducing its carbon footprint:
'Right first time' repairs – will reduce operational mileage
Greening the fleet/plant when purchasing or hiring new equipment
Maximise recycle and reuse of materials
Innovation in highway materials and technology
Sustainable management of drainage systems
Encouraging the use of other modes of transport