Local authorities must leave experimental active travel measures in place for long enough to be properly assessed, or they will lose out on future cash, the Government has warned.
In a letter to all the leaders of combined, transport and highway authorities in England, transport minister Chris Heaton-Harris instructed councils to conduct consultations and evidence-based reviews of schemes before their removal.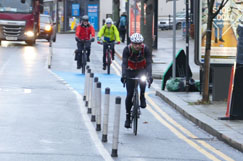 The minister was specifically referring to schemes sponsored by the Emergency Active Travel Fund (EATF), such as school streets, pop-up cycle lanes, and Low Traffic Neighbourhoods (LTNs).
These often saw councils put in emergency measures to support social distancing and boost active travel as a result of the COVID pandemic.
'Premature removal of schemes carries implications for the management of the public money used in these schemes and for the Government's future funding relationship with the authorities responsible,' he wrote.
'The Department will continue to assess authorities' performance in delivering schemes and, following the precedent we have already set, those which have prematurely removed or weakened such schemes should expect to receive a reduced level of funding.'
The Government has demanded that councils carry out consultations on the removal of schemes just as they would do when putting the schemes in, and that this includes 'objective tests of public opinion, such as professional polling, to gather a truly representative picture of local views'.
Mr Heaton-Harris writes: 'We revised our Network Management Duty (NMD) guidance to state that measures should be "taken as swiftly as possible, but not at the expense of consulting local communities" and that "local residents and businesses should... be given an opportunity to comment on proposed changes" to schemes.
'Please note these requirements also apply as much to the removal or modification of existing schemes as to the installation of new ones. In many cases where schemes have been removed or modified, there appears to have been little or no consultation.'
Special adviser to the prime minister Andrew Gilligan highlighted that certain councils had already had funding halted 'pending discussions'.
Mr Gilligan tweeted: 'We have halted funding, pending discussions, to councils which have prematurely removed schemes. These include Brighton, Liverpool, West Sussex. London councils have had similar letters from TfL.'
Cash allocations from the new 'capability fund' have been put on hold. This revenue grant enables local transport authorities to promote cycling and walking in their areas through the development of infrastructure plans or carrying out behaviour change activities including training.
Liverpool city region is in line for £1,897,488, however the total amount for the region 'is subject to further discussions in respect of Liverpool City Council schemes'.
More than 10 authorities, as well as Cambridge and Peterborough Combined Authority, have to give 'further assurances' before funding, which could run to hundreds of thousands of pounds, is confirmed.
This capability fund, which replaced the Access Fund, is separate from the much larger capital grant funding allocated depending on the quality of authorities' LTN 1/20-compliant [cycle infrastructure guidance document] bids for infrastructure schemes.
However, DfT officials said they had in some cases 'halted all funding until we can be sure of the authority's commitment to active travel'.
'We hope to be able to resolve such issues as swiftly as possible with the authorities concerned. In a few cases, relevant assurances have already been received and funding has not been halted.'
Mr Heaton-Harris added that over the last year, cycling has risen by 46% and 2020 saw the highest level of cycling on the public highway since the 1960s.
Ed comment: Give councils a chance
In Gear Change, enjoying its first anniversary, the Government signalled its intention for a cycling revolution and, in contrast to previous administrations, backed this up with actions as well as words. The new LTN 1/20 document provided a much needed and welcomed refresh of cycling infrastructure guidance.
Beyond this, the Government also made the important claim that 'we will not fund or part-fund any scheme that does not meet the new standards and principles'. A powerful incentive to get things right and ministers will no doubt argue they gave councils warning.
However, the letter from Mr Heaton-Harris and the subsequent 'halting' of funding will strike many in local government as unfair. When the Government first told councils to put in emergency active travel schemes, there was no guidance on how to do it and no specific allocations from the £250m EATF - just a general pledge that money would come and instructions to councils to get on with it.
When local authorities did just that, some drivers turned against the schemes, not just LTNs but even pop-up cycle lanes somehow managed to provoke ire. What was the reaction from transport secretary Grant Shapps?
He did not take the perfectly sensible position of saying councils should be given time to properly judge the schemes (now the official policy of course). In fact, he laid the blame on councils, which, he suggested, had put the schemes in too hastily and needed to consult more.
Now that polling has shown these schemes do command general popularity, ministers have changed tack again and are blaming councils for removing them too hastily.
What will be most frustrating to local authorities is the fact ministers seem to be taking credit for developments like LTNs when it was brave and progressive councils taking all the risk and doing the hard work. And they don't even get a thank you.