Chris Grayling has confirmed Government funding of £22.5m towards the Forder Valley Link Road in Plymouth, whose cost has risen by nearly a third in the last year.
The Department for Transport (DfT) said the new 1km road (designs pictured below) will create an additional route from the east of the city to the north, avoiding the often heavily congested Manadon Roundabout and A386 Tavistock Road.
In December, Plymouth City Council said it would submit the business case for the project to the DfT in January 'and hopefully release a £22.56m investment earmarked for the scheme'.
It disclosed at that time that the total delivery cost of the scheme had increased to an estimated £54.8m, 'mainly due to unfavourable ground conditions being detected during investigations and an increase in the width of the main link road'.
In January 2018, Highways reported that Highways England had allocated £4.5m from its Growth and Housing Fund to support the project, which was then stated to cost £37.8m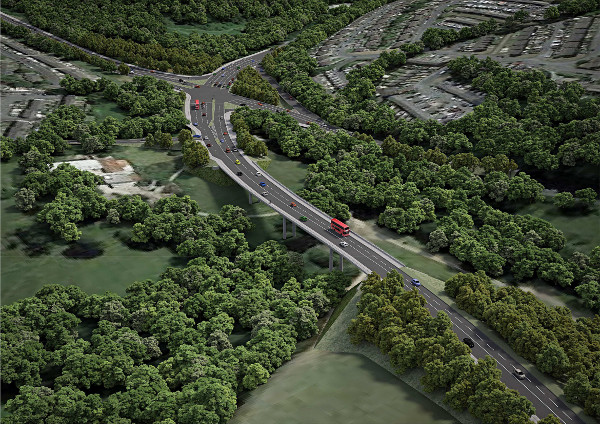 The transport secretary said: 'This exciting scheme will provide vital extra capacity on Plymouth's road network and help cut journey times, while also promoting the use of public transport through better bus routes from the east.
'This investment is part of our cast-iron commitment to deliver resilient transport across the south-west, building on our ambitious plans to boost the region's economy through stronger travel connections.'
Cllr Mark Coker, Plymouth's cabinet member for strategic transport and infrastructure, said: 'The Forder Valley Link Road is one of the biggest infrastructure projects this council has ever embarked on. We submitted a strong, compelling business case so we're really pleased the DfT has now confirmed the funding it had earmarked for this regionally significant scheme.'
The council said that enabling works got under way at the end of January and that the first of 14,500 trees have already been planted as part of a landscaping scheme designed to counter any loss of wildlife habitat. DfT officals said the project is expected to be completed within three years.