Police Scotland is considering 25 locations in Edinburgh for speed camera enforcement following the success of the country's first urban average speed camera.
However, it has played down suggestions that the sites are likely to see a large scale roll-out of average speed cameras.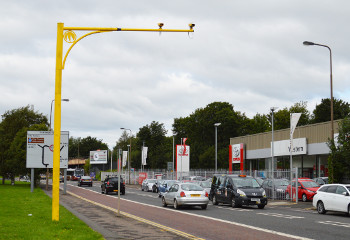 Andy Jones, Police Scotland's east safety camera unit manager, told BBC Scotland: 'We are doing speed surveys at 25 locations in Edinburgh and if they meet the criteria once we have analysed collision and speed data, average speed cameras will be considered where appropriate.'
However, Mr Jones told Highways that the sites would also be considered for mobile or single fixed cameras, depending on the location and the collision and speed data and that it was unlikely that very many would be average speed cameras.
Mobile speed cameras could be appropriate, depending on the time of day that drivers were found to be speeding, he explained. He added that decisions would be made in conjunction with the city council.
Mr Jones also commented on the success of the first urban average speed camera system in Scotland (pictured), which is on Old Dalkeith Road in the capital.
As reported on Highways, the camera, which was installed in 2017, cut speeding to just two offences a day, compared with three in every five vehicles speeding beforehand.
Between 2013 and 2015 there were six injury collisions, three of which resulted in serious injury or fatality. Speed surveys in April 2019 found the average speed was now 25.6mph.
Mr Jones told the BBC: 'This was the first installation of an average speed system in an urban area and I'm delighted that it has resulted in an improvement in driver behaviour.
'An average speed of 25.6 mph and two offences on average each day shows the effectiveness of this type of speed camera in encouraging drivers to adhere to the speed limit.'
The Old Dalkeith Road system was installed camera specialists Jenoptik. Its sales and marketing director, Geoff Collins, told Highways: 'The use of average speed cameras continues to increase year on year, as the clear benefits they provide are more widely understood, both by road users and highway authorities.
'Jenoptik are delighted to have supplied and supported every average speed camera used in Scotland.'
City of Edinburgh Council transport and environment convener Lesley Macinnes said: 'It is encouraging that compliance with the 30mph speed limit continues to improve on this route.
'We will continue to work with our colleagues at Police Scotland's Safety Camera Unit to monitor the impact of average speed cameras on Old Dalkeith Road.'
In July Transport Scotland announced that a £250,000 average speed camera system would be installed (by Jenoptik) on a 15.9-mile stretch of the A82 and A85 roads between Tyndrum and Lix Toll.
Mr Jones said at the time that although his unit had deployed mobile camera vans along this route, motorists were complying with the speed limit when the vans are present with 'a significant number of vehicles travelling above the limit out with enforcement periods'.
Traffex Scotland takes place at The SEC in Glasgow on 13 and 14 November 2019 and together with Bridges Scotland remains the country's only dedicated event for the roads and bridges sector.