Eurovia UK is marking Responsible Business Week 2018 by celebrating sustainable practice across its businesses.
It said one of its key aims is to achieve a zero waste to landfill – 'supporting a truly circular economy, where one person's waste is another's resource'.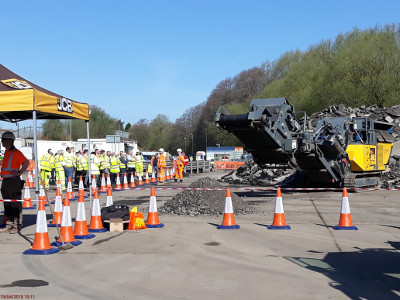 'A key component of this is the ability to transform by-products, previously considered as waste, into material suitable for creating long-lasting highways solutions'.
This approach was on display at a recent open day at Worcestershire Highways Recycling Centre, where visitors were shown a range of innovations.
Visitors were also shown a pioneering in-depot treatment being developed for gully waste, which renders it inert through the elimination of total petroleum hydrocarbons using a specialist drier.
Dave Rowley, regional director of Ringway Term Services West, said improved sustainability and responsibility are some of the benefits enjoyed by Eurovia UK businesses working together.
'We have a proven track record of being able to provide this service, in-house, to our clients. Sustainable service delivery; recycling and reuse, is a key part of what we offer because of the unique way in which we deliver services, contracting and production within the one business.
'Events like our Recycling Demonstration Day are an important way of showing people just what we are capable of doing and the quality of the recycled products that can be produced within one organisation.'
The firm said its strategy is focused on the delivery of its sustainability commitments in terms of our social, economic and environmental performance, along with our wider business responsibilities and governance.
It also plans to increase its engagement with suppliers to further its commitment to responsible business. For example, this month has already included a workshop to explore opportunities where alternative fuels could be used for plant and fleet, as well as how to deliver wider social benefits in the communities where it works.
This has already happened in many parts of the country where Eurovia UK staff members have joined forces with local community groups to volunteer in clean-up events.
These have often been coordinated by the company's corporate responsibility champions, who liaise with local communities and take the lead on planning, implementing and recording responsible business activities within each business area.
All Eurovia UK employees are entitled to take up to two paid days each year to volunteer for a worthy cause.