Plans for carbon-negative aggregate and smart fibre reinforced plastic bridge beams are among those in the final stage of National Highways' Accelerating Low Carbon Innovation competition.
Four firms, each set to receive up to £80,000 to make their low carbon projects a reality, have made it to the last round - whittled down from the seven initially awarded up to £30,000 to produce their plans.
The four remaining projects are:
Low Carbon Materials Limited (LCM), Seaham – delivering a carbon-negative aggregate for use in carbon-neutral asphalt.
PRG (Scotland) Limited, Hamilton – to produce a bitumen-like substance which would be useful for road construction and repairs.
Circular11 Ltd, Christchurch, Dorset - to provide highly durable, maintenance-free fencing material that turns mixed low-grade plastic into low-carbon infrastructure, and which will be collected and recycled at end-of-life.
Asset International Structures (pictured), Cwmbran - to develop smart fibre reinforced plastic bridge beams that incorporate a novel optical fibre, enabling structural performance monitoring in real-time and over the long-term.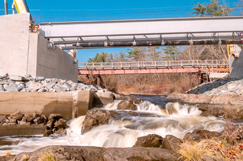 As part of phase two of the programme, funding up to £80,000 is allocated based on the trial proposals submitted by applicants.
Melissa Giusti, National Highways project manager, said: 'In 2021 we set out our Net Zero plan which includes a commitment to net zero emissions from construction and maintenance activity by 2040.
'Material decarbonisation, building less, efficiently using materials, getting things right first time, making their assets last longer and driving change through whole-life carbon decision-making are areas that we're going to focus on.
'To address this, we're offering funding to innovators for the development of novel solutions that could help them reach their environmental goals. Many congratulations to all the companies who have made it to this stage and we look forward to seeing them develop their ideas.'
This competition is funded through National Highways' Designated Funds, in collaboration with Connected Places Catapult.
Alex Weedon, executive director, SME development and academic engagement at Connected Places Catapult, said: 'The companies entering the trial phase of this accelerator will be assisted throughout by experts from the Catapult and partners. Each has been paired with a tier one contractor to help deploy their innovation on the ground.'
Balfour Beatty, Kier, Skanska, Jean Lefebvre UK (part of the Vinci Group) and Amey are supporting the four projects.