Chris Grayling has officially opened a new section of the A1 following a major upgrade that was delayed and went over budget.
The £400m Leeming to Barton upgrade means that drivers using the M1 and A1(M) can have motorway-standard journeys between Newcastle and London.
The first phase of the scheme, which was delivered by Morgan Sindall, opened to traffic in September but full completion was delayed until March.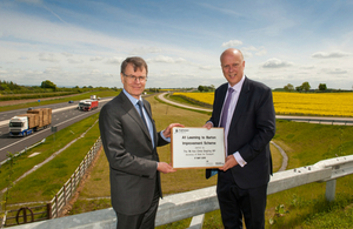 The project was previously costed at £380m. A spokesperson for Highways England told Highways that the additional cost had resulted from increased archaeology and the diversion of utilities.
Transport secretary Chris Grayling, pictured with Highways England chairman Colin Matthews, said: 'This scheme will not only save motorists time stuck in traffic, but will also help unlock £1bn into the economy.
'It also fills in the missing link to provide motorway-standard roads between Newcastle and London, helping businesses in the North by opening up new opportunities thanks to better and more reliable connections to the rest of the country.'
Highways England senior project manager Tom Howard said: We've made it easier for local people to access the A1 safely, and we've planted miles of hedgerows and acres of woodland.
'This has been the biggest road project in the North and I would like to thank everybody involved in the scheme for their hard work and commitment in making it happen.'
A total 13 miles of the route have been upgraded to motorway standard, with an extra lane added in each direction. Improvements also include 11 miles of new local access road, improving safety for local traffic and surrounding communities as well as an improved route for cyclists, equestrians and pedestrians.
Highways England said the upgrade has made access to the road safer via a new junction at Catterick and an improved junction at Scotch Corner. It said the improvements are predicted to prevent 450 accidents and save 20 lives over the next 60 years.
There are also 10 new bridges to help people cross the road more easily. On the environmental front, 28 hectares of new woodland have been established and 18 miles of new hedgerows have been planted.
The project created more than 800 jobs, with 11 apprentices and 15 graduates recruited.