Highways England has admitted that main construction work for a cycling programme in Cornwall to which it is contributing £17m 'is expected to commence in 2021/22', despite originally stating that it would be 'be delivered by spring 2021'.
The government-owned company appears to have made little progress in completing new cycling schemes during the current financial year, having now dropped targets for the number of schemes in favour of a less tangible pledge to provide 'high-quality…infrastructure in the right places for our customers'.
As Highways has reported, Highways England has not been able to back up its claim to have completed 160 schemes by March 2020, and some schemes for which funding from the 2015-20 Road Investment Strategy (RIS 1) was announced remain unfinished.
In 2019 Highways England announced that it would be providing £17m 'from [its] Cycling, Safety and Integration Designated Fund' for four schemes in Cornwall. Under RIS 1, that fund provided £100m for cycling up to and including 2020/21 and set a six-year target of 200 schemes.
The announcement of cash for the Cornwall schemes stated that they were 'due to be delivered by spring 2021'. This was a year beyond the end of the first (2015-20) roads period, but within its six-year funding envelope.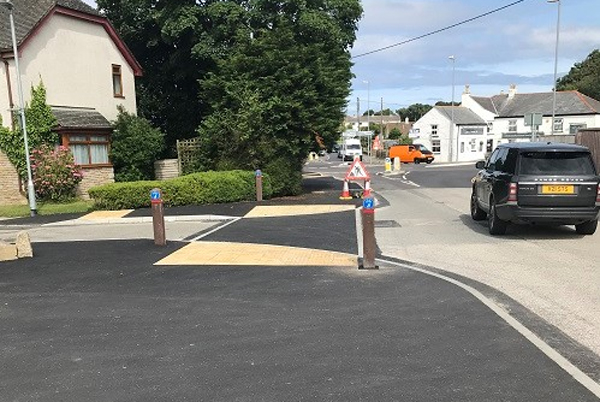 Work began and was completed last year on part of one of the four schemes – a section through the village of Goonhavern (above) on the Perranporth to Newquay trail. The council told Highways that work is due to begin shortly on the St Agnes to Truro section.
According to the council's website: 'The delivery of the core scheme will now finish in March 2022. This is due to ongoing negotiations with Highways England.'
Highways England told Highways: 'The remainder of the [overall] scheme continues to progress as planned' and that 'construction in most sections is expected to commence in 2021/22'.
However, this is after the original, publicly-announced completion date for the whole programme.
Cash on delivery?
As the Cornwall cycling programme should have been completed by spring 2021, but has barely started, it has now run beyond the original six-year RIS 1 funding envelope.
Despite this, Highways England has told Highways that the A30 schemes are an example 'of schemes that were designed to undertake feasibility, design or preliminary construction in RIS 1 using the RIS1 budget, with the intention of completing and opening to the public using the RIS 2 budget'.
It added: 'The scheme continues to be funded as per the original schedule, with RIS1 funding granted to complete RIS1 milestones and the RIS2 budget to complete delivery.'
This appears to be another example of Highways England and the Department for Transport announcing a scheme under RIS 1 that was always expected to run into the second RIS.
This happened with the A303 Stonehenge Tunnel, described in the RIS document as part of 'a package of commitments worth £2 billion'.
RIS 2 cash for cycling
RIS 2, which began in April 2020, effectively cancelled this outlined sixth year of funding under RIS 1 and moved funding for issues like cycling into newly defined Designated Funds. A new Users and Communities fund includes walking, cycling and horse-riding as one of six streams.
Highways England told Highways that the Users and Communities fund has been allocated £40m for the current financial year; of which £29.2m has been awarded to the walking, cycling and horse-riding theme.
A spokesperson suggested that this showed 'how much of a priority this theme is for us'; however, it compares with £21m a year for cycling in RIS 1, meaning that after allowing for inflation, the three strands will only get slightly more than RIS 1 allocated for cycling alone.
Highways England stated that 173 cycling schemes have been completed and assured since 2015, 'including 13 that having been delivered and validated by the business since April 2020'.
This may understate the number of schemes that have been opened since April as it only includes schemes that have been validated. However, it is significantly down on the 59 schemes that Highways England claims to have completed during 2019/20.
Highways England said its officials were still working on a list of the 160 schemes it claimed to have completed by March 2020, raising further doubts about its basis for this claim.
As Highways has reported, Highways England has quietly dropped the target of 200 schemes by the end of 2020/21. A spokesperson told Highways that this 'was reflected in the RIS 2 document'.
The spokesperson said: 'Our focus is now on ensuring we are maximising the benefits from the investment we are making by delivering high-quality walking, cycling and horse-riding infrastructure in the right places for our customers.
'As we are maturing our approach to these interventions, we are delivering improvements to how we work, for example; building capability and providing new guidance for our colleagues and supply chain; revisions to how we appraise proposals and; improving how we work collaboratively with partners to contribute to wider networks for these users.
'This approach enables us to consistently deliver improvements that meet our strategic objectives i.e. to address severance caused by our road network, to improve connectivity, and to provide safe, direct and high quality infrastructure.'