Highways England has published the contract notice for its Area 10 Construction Works Framework, which could now be worth £270m.
The framework is divided into lots and will last four years. It will be made up of a number of different contractors from different specialist areas who will work together to deliver network improvement and maintenance schemes within Area 10, which covers Cheshire, Merseyside, Greater Manchester and Lancashire.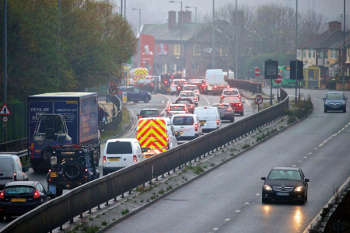 When the prior information notice for the framework was published in January it was valued at £220m.
A spokesperson for the government-owned company told Highways that the increase reflected a better understanding of what it planned over the four-year period.
The contract notice also states that Highways England may use the framework to deliver works in its Area 13 from 2021/2 and may also use to to deliver works in any of its other operational areas 'as a contingent measure'.
The framework will cover but is limited to
civil engineering works including earthworks;
fencing, landscaping;
road restraints;
drainage and ducts;
pavements, kerbs, footways, paved areas;
traffic signs and markings;
road lighting and electrical work for lighting; structures — piling and retention walls and structural concrete;
waterproofing;
painting;
and any other similar duties.
Firms wishing to participate have until midday on 30 April with invitations to tender or to participate expected to be sent out on 23 May.
In early March Highways England published the contract notice for its Area 10 maintenance and response contract, which could be worth up to £326m over 15 years.
The Area 10 contracts could be the last to be last to be let under Highways England's current approach to 'Asset Delivery', which took forward the process of bringing asset management back in-house.
As reported by Highways last week, the government-owned company is using contract extensions to slow down the roll-out of Asset Delivery as it rethinks its approach..