Gaist has launched a new SafetyView road inspection service following trials in three councils and input from the Department for Transport and insurance companies.
The solution enables 'rapid capture and display of every safety defect on an inspection route', providing a robust record of potholes and other defects to support councils in asset management and defending legal claims.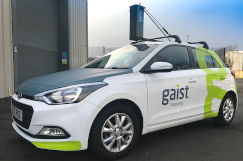 Using Gaist vehicles, travelling at traffic speed with 360-degree high-definition cameras, route inspections are captured in high-quality imagery and processed into a seamless video which can be accessed from a desktop and is fully auditable.
The system provides high levels of detail about road condition and deterioration trends and takes away the need for teams of two inspectors.
Steve Birdsall, chief executive of Gaist, said that the new approach would 're-define how we deliver safety on our highways'.
Local authorities and other highways infrastructure operators could have 'the full confidence they need to make the correct maintenance and investment decisions and to support the safest possible road networks for their customers', he added.
Since its launch 15 years ago, Gaist has brought innovation and disruptive technologies to the highways sector, using technology and digital processes as well as expertise in camera technology.
The multi-award-winning business has combined visual imagery records with artificial intelligence analysis through machine learning.
The business's potential was underlined in 2018 when private equity group BGF made a near £3m investment to help fund its expansion.
For an invite to an introductory webinar on SafetyView, taking place on 16/07/2020, click here.