Parcel pipes beneath the carriageway to help with deliveries? Is this the future of road architecture? A major regional transport body believes it might be.
England's Economic Heartland has released an outline transport strategy for initial feedback before a formal consultation in the first half of 2020.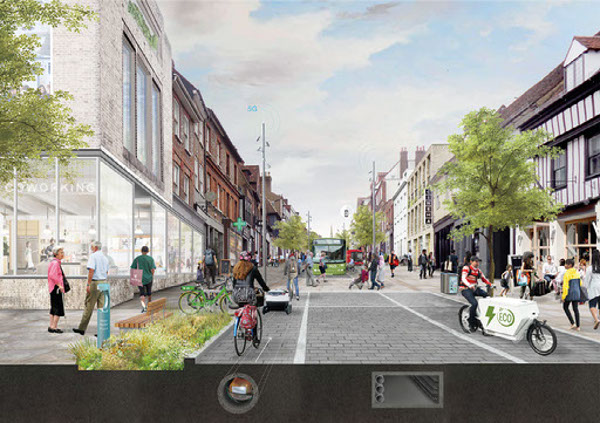 Along general principles and plans the wide ranging and topline document features a representation of what the future high street could look like. It includes a range of assets, some more unexpected than others:
Highways redesigned to support local bus routes, freeing up the street section to support walking and cycling.
New wider pavements allow for the inhabitation of the street space.
Cycle lanes and associated infrastructure including parking and charging locations for ebikes.
Introduction of sustainable drainage systems (SuDS) and tree planting to respond to the challenges of climate change and improving air quality.
Decluttering the streetscape of unnecessary signage and street furniture.
Provision for local deliveries to be made by electric/hydrogen vehicles, providing first mile/last mile logistics.
Supporting the uptake of local deliveries by electric cargo bikes.
Potential for 'parcel pipes' to be integrated beneath carriageways.