JCB has closed its biggest single order from leading European plant and tool hire company Boels Rental, delivering some £21m in brand new machine fleet.
Netherlands-based Boels has signed a deal for more than 340 JCB machines – including Loadalls, midi and micro excavators – which will join depots across Europe including Belgium, Netherlands, Germany, Poland, Slovakia, Austria and Italy.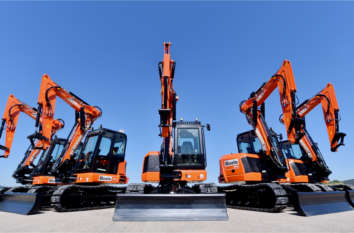 Boels Rental has bought more than 1,600 JCB machines in recent years.
JCB group managing director Global Key Accounts, Yvette Henshall-Bell, said: 'We have worked closely with Boels for many years and it's testament to the quality of our range of Loadalls and excavators as well as the world-class service back-up that we've secured this valuable business.'
Boels director of fleet pperation, Guy Cremer, said: 'Our decision to buy JCB was based on the quality and efficiency of the product as well as the excellent aftermarket support we receive from JCB throughout Europe. Boels and JCB are both family businesses sharing many common values and I am glad that our long standing partnership continues.'
The news comes as major fleet companies in the UK have suggsted that the lower value of the pound in the wake of the Brexit vote as a potential opportunity for European exports.