A transport union has demanded that mayor Sadiq Khan and Transport for London improve the safety of the capital's franchised bus services after 45 people were killed and 1,017 seriously injured over five years.
A meeting held by campaign group LondonBusWatch at a London Labour Party conference at the weekend called on Mr Khan to make the safe operation of outsourced bus operators TfL's top priority.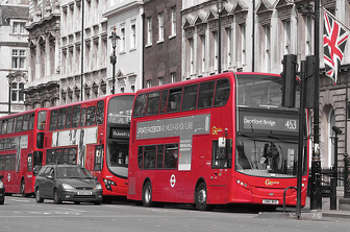 It follows claims that bus drivers are being pressured to drive too fast to keep up with punctuality targets.
Based on data published by TfL, GMB London Region said that since 2014, 4,736 people have been injured in collisions involving TfL buses – roughly 2.5 people per day.
Of these, 45 people were killed and 1,017 seriously injured – roughly four people killed or seriously injured every week.
Warren Kenny, GMB regional secretary said: 'GMB London are calling for decisive action from the top to change the inherited culture at Transport for London and to ensure the safe operation of buses by the outsourced private for-profit operators.
'Sadiq Khan has to get a grip on the problem he inherited from the past managers who designed the outsourced killing machine that TfL presides over. Nothing less than fundamental reform of the Bus System's contract performance incentives to include safety is acceptable.'
LondonBusWatch and the GMB called on Mr Khan as chair of TfL to have a ten-point 'Bill of Rights' adopted by TfL's contracted bus companies and its implementation monitored by TfL.
TfL said its Bus Safety Programme includes ten key work streams, including an increased emphasis on safety in the management of contracts and managing the risk of fatigue among drivers.
Its director of bus operations, Claire Mann, said: 'Deaths and serious injuries on our road network are neither acceptable nor inevitable, which is why we are doing all we can to eliminate them. We are introducing a range of additional and enhanced safety requirements for buses and are developing innovative driver training focused on the safety of vulnerable road users.
'Our bus operators know that safety is our top priority and continue to work with us towards our aim of making London's roads free from collision-based deaths and serious injuries.'
The GMB's 'Bill of Rights':
'The right to a safe work schedule without any forced overtime or loss of pay
'The right to a decent and proper rest break in the working day
'The right to drive a safe and well-maintained vehicle
'The right to clean, serviced toilet and rest facilities on all bus routes
'The right to report safety concerns without fear of retribution from TfL or employers
'The right, when seriously ill and covered by a doctor's note, to not be harassed into coming into work until fit to do so
'The right to relevant and timely safety training
'The right to drive without being forced to answer radio messages and texts from Controllers whilst in motion
'The right to have all company rules in writing and clearly displayed
'The right to be treated with dignity and respect by our employers, TfL and the public.'