Network Rail has launched a 'collaborative' new campaign to educate lorry drivers about the dangers of low bridges after the worst year for bridge strikes for five years.
The new campaign, entitled Lorries Can't Limbo, is aimed at encouraging professional drivers to 'wise up and size up' their vehicle and plan their route before they head out on their journey.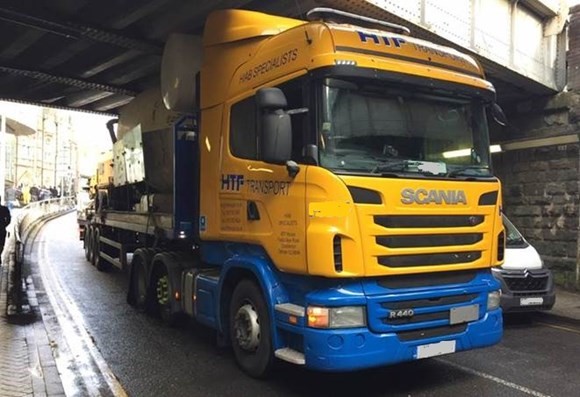 Each year there are about 2,000 railway bridge strikes, costing around £10,000 in repairs and compensation to train operators for delays caused. Network Rail said that compensation costs it up to £13m a year, but estimates the 'true annual cost' at up to £23m, once the value of undelivered goods, lost productivity from train delays and road congestion are taken into account.
It said its research revealed that 43% of lorry drivers admitted to not checking the height of their vehicle before heading out, with 52% admitting to not taking low bridges into account when planning their journeys.
The campaign is focused on 'four E's': education of drivers and employers, engineering and signage, enablement technology in HGV cabs, and the enforcement of penalties.
It has been developed together with partners across the haulage industry.
These partners are helping the Network Rail educate drivers using a toolkit that offers advice on educating drivers around the impact of strikes.
Mark Wheel, senior engineer at Network Rail said: 'We know that bridge strikes are a pertinent issue for a majority of drivers and decision-makers. However, there are many other challenges which often appear more immediate.
'Bridge strikes are not always front and centre and drivers often need to be challenged to consider them, especially outside the confines of their regular depots or destinations.'
After launching the national campaign, Network Rail said its Wales and Borders route had seen eight bridge strikes in just seven days, with 128 strikes on the route since April 2017, 'causing 8,809 minutes of delay to passengers and costing the taxpayer thousands of pounds in damages and delays'.
To learn more about the campaign visit: https://www.networkrail.co.uk/communities/safety-in-the-community/safety-campaigns/wise-up-size-up/
This article was updated on 20 August 2018.