A former transport minister has hailed progress on a £150m road scheme and suggested that further road building in the area may be necessary, despite predictions it could increase traffic.
National Highways is building a bypass along the A585 near Poulton-le-Fylde in Lancashire, with a new dual carriageway bypass around Little Singleton and improved junctions at Windy Harbour and Skippool.
The scheme has caused controversy due to the mixed messages around its benefits and impact on traffic, with National Highways' planning application predicting that traffic and in turn emissions would increase as a result of the scheme.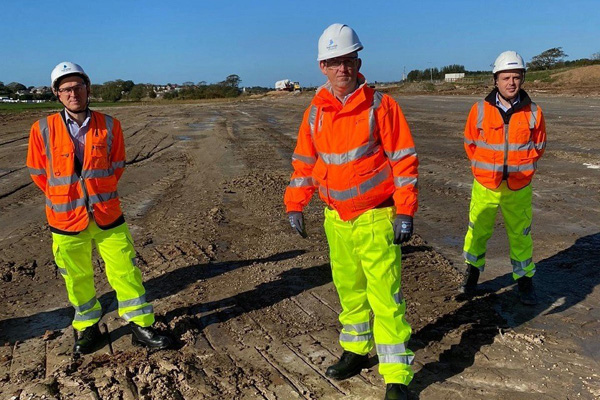 The government-owned company said Blackpool North and Cleveleys MP Paul Maynard (centre of picture), a former transport minister, visited the construction site and declared his satisfaction with progress on the project so far.
National Highways said the road, which links Fleetwood with the M55, will remove a significant congestion bottleneck and support the delivery of new homes and jobs in the area.
With the scheme due to open to traffic in 2023, work is progressing on new road layouts at Skippool and Skippool Bridge junctions and construction of the new bypass itself near Poulton and Lodge Lane, the company said.
Following his visit, Mr Maynard, said: 'I campaigned for this relief road before being elected over 11 years ago, so it is great to see the progress being made by National Highways and Kier. This new road will reduce congestion and speed up journey times.
'However, it is not the end of the works needed, in my view, and further sections of the A585 may need looking at in the years to come.'
Jonathan Hornsby, project manager at Kier Highways, said: 'We were delighted to welcome Mr Maynard, let him chat to one of our apprentices and provide a tour of the project. Everyone here is committed to ongoing collaboration with local people as we work together to deliver this important improvement.'
National Highways' delivery director Stewart Jones said: 'We're making good progress with this scheme and are motivated by the end goal of better safety, reduced congestion and impact on traffic, and the removal of a major bottleneck on the main road to Fleetwood.
'Without these vital improvements it's likely traffic and congestion would increase and accident numbers would rise.'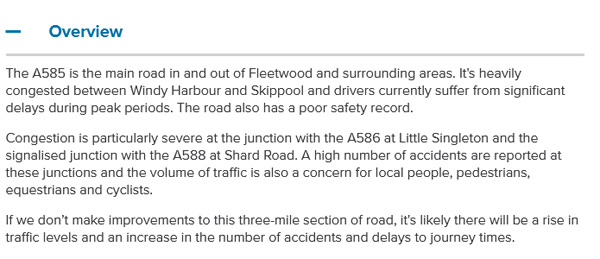 The statement that traffic levels are likely to rise without the scheme appears on its webpage
In fact, according to a planning application submitted in 2018 by what was then Highways England, traffic is forecast to increase on most parts of the route in both the original opening year (2022) and 2037, although journey times would improve.
Highways England's 2018 climate assessment for the scheme predicts an increase of 397,268 tonnes of carbon dioxide equivalent (CO2e) in non-traded emissions and an increase by 31,118 tonnes CO2e in traded emissions over 60 years, 'caused primarily by an increase in traffic volume and flow along the route'.
The assessment goes on to state: 'This increase in emissions as a result of the Scheme would be negligible, and therefore, effects would be Not Significant.'
Chris Todd, director of Transport Action Network (TAN), told Highways: 'All road building increases traffic levels and carbon emissions and the same is true for the A585. These will rise at a far faster rate than if a scheme had not been built.'
Earlier this year, a legal challenge from TAN forced ministers to agree to a review of the National Policy Statement on National Networks (NPSNN), although this may not be complete until 2023.
Mr Todd suggested Highways England's assertion regarding the significance of carbon emissions came about because it had followed the carbon test set out in the NPSNN which talks of comparing the carbon emissions to UK total emissions.
He argued that such a comparison was unfair and questioned if the economic benefits of a scheme would be measured against total UK GDP.