Eurovia has launched a new, highly automated production plant in Grays, Thurrock, which aims to produce materials that prolong the life of highway assets and cut transportation costs.
The firm said the plant is the most automated polymer modified bitumen and emulsion plant in Europe and, at £7m, is the biggest ever single capital expenditure project by Eurovia UK.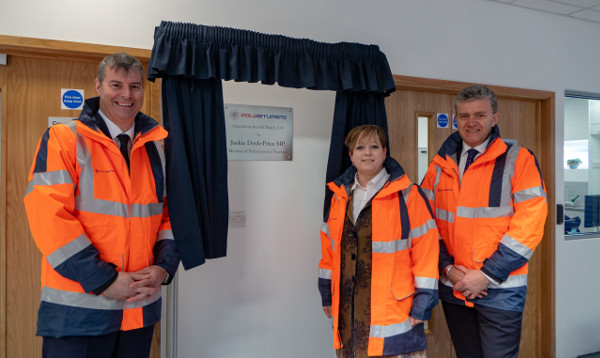 From left: Paul Goosey, managing director – Eurovia Production; Jackie Doyle-Price; Scott Wardrop
Local MP Jackie Doyle-Price officially opened PolyBitumens, which will produce Polymer Modified Bitumen (PMB) and polymer modified emulsions for high performance surface treatments.
In a video message, roads minister Jesse Norman hailed PolyBitumens as 'exactly the kind of investment we need in this really strategic industry for our country'.
He added: 'The idea that it's going to be producing a road surface that is more resilient, quieter, harder wearing and more durable for our drivers and for road users, and for our infrastructure creators around the country is better still.'
Eurovia UK chief executive Scott Wardrop said: 'This facility will enable us to utilise innovative processes from the US and Europe, along with our own UK R&D, to deliver more effective, sustainable and whole-life pavement solutions for our highway improvement and reconstruction projects in the UK.
'This investment is part of our ongoing commitment to delivering excellent highway services, by local people, for local people. It is further evidence of the way that we differentiate ourselves by innovation through our services.'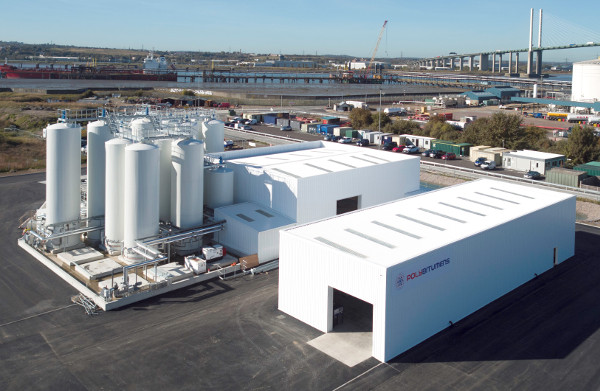 The new plant with the Thames and Dartford Crossing in the background
Eurovia said the plant has been developed using internationally recognised, innovative processes and the technical expertise of laboratory Jean Lefebvre (UK). It uses Lean, 'white factory' processes to improve efficiency and product quality, while maximising digital ordering and logistics to support 'just-in-time' delivery.
It said that safety has been the most important consideration in the design of the facility and that while this type of plant traditionally uses dirty and dangerous processes, by using automation, PolyBitumens provides a pleasant working environment that segregates people and machines, limiting the exposure of employees to potential hazards.
By producing materials in Thurrock to be used on road improvement schemes in southern England, the Home Counties and London Eurovia aims to reduce its dependency on the long-distance transportation of PMB and emulsion products from plants in the North West and save an estimated 470,000 vehicles miles each year.