Manufacturer Ultracrete and campaigner Mr Pothole are joining forces to drive a bright orange tank through London next month to protest about the deficit in funding for road repairs.
Ultracrete, producer of Instarmac and official sponsors of National Pothole Day (15 January) said their mission is to draw attention to the current shortfall of funding needed to repair Britain's ever-increasing potholes, 'with the hope that more can be done to release funds and to help local authorities tackle this re-occurring national road crisis permanently'.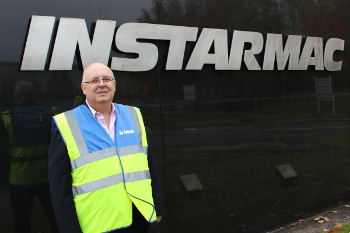 The firm said the stunt will be 'quite a spectacle'; starting at 10.30am, the bright orange Abbot self-propelled gun, will travel along the Embankment 'with Mr Pothole in a commanding position, aiming for an ETA to coincide with question time in parliament at Westminster'.
Mr Pothole (AKA Mark Morrell) said: 'Something really has to be done now, the pothole crisis is at breaking point – we are hoping our tank stunt will really drive the message home to the key funding decision-makers, that more has to be spent on repairing Britain's roads.
'Safety is a critical issue, but it is a question of economy too, councils and Highways England are paying out thousands a year on insurance claims and businesses are suffering due to increased delays on roads caused by potholes, manholes collapsing and even sinkholes in some places, as a result of poor maintenance.'
Zoe Rees, head of sales for UltraCrete, said: 'Cash-strapped authorities and councils are really struggling to keep up with the ongoing costs associated with maintaining our road network, so it's imperative the government recognises this. We really want to help maximise any funding authorities and councils may receive.
'We believe that with timely maintenance, independently approved, permanent materials and the correct training, much of the UK's recurrent pothole issues can be tackled in a cost-effective way.
Instarmac pointed to recent statistics that it said 'paint a poor picture of the state of its roads'. More than 700,000 new potholes were reported on the country's highways during 2019, marking a 13% jump on the year before, according to data obtained by the Federation of Small Businesses (FSB).
The Local Government Association reported that routine road maintenance budgets have fallen from £1.1bn in 2009/10 to £701m in 2017/18, the firm said.
To support the event in London, UltraCrete will be providing an Awareness Day at its facility in the West Midlands on 14 January. Local authorities are encouraged to come along to add to their arsenal of weapons in the mass destruction of potholes, with the opportunity to trial HAPAS and PTS PAS approved products for permanent, one-off repairs, receive guidance on best practice, along with on the spot permanent repair training and a tour of the Instarmac factory.