Bournemouth, Christchurch and Poole Council is one of the youngest authorities in the country having only been established in April, but it has not been wasting any time getting ahead on winter service with the help of Exactrak.
BCP was one of two new unitary authorities which been formed in Dorset following the merger of nine councils. Bournemouth, Christchurch and Poole councils were combined to make the new BCP authority.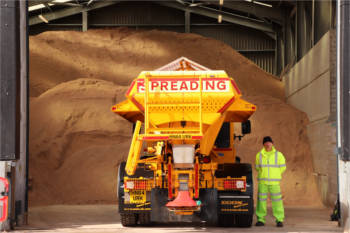 Under former local government structures, winter service officers in the area used paper maps and written instructions for highway gritting routes each winter season.
These took hours to produce, didn't account for any last-minute changes and were generally laboriously inefficient. Just prior to being officially established this spring, BCP switched to using Exactrak's Navtrak and Map-a-Route automated navigation and route creation solutions, in 2018. At the heart of the system is the OS MasterMap – an all-encompassing amalgam of road and path information.
BCP Council has now embraced these new digital mapping and route navigation technologies. Route planning software, Map-a-Route, allows BCP Council to take control of their own gritting runs, while Navtrak navigation software guides the driver around the route and automates the spreading with a connection to the spinner at the back, down to 100 metre sections if necessary. The system can adjust the spread width, the associated symmetry of the spreading and switch between spreading one or two lanes or individual sections of lanes.
General manager of Exactrak Mark Wilcox, told Highways: 'We launched our Map-a-Route enhanced module 12 months ago. Previously routes were programed for clients in-house but now using the Map-a-Route system we have given the customer a chance to digitise their own routes so they have full control.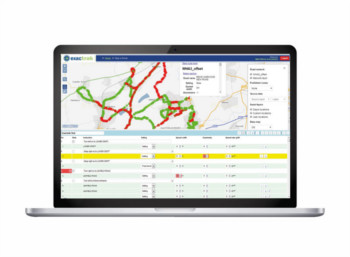 'They have an app to make decisions when they want. We are in the process of fully automating the system and by this winter season, authorities can programme routes from anywhere and upload them directly to the gritter's cab.'
So far around 70% of Exactrak's customers have migrated to the new system, which can produce efficiencies of 22%-25% in comparison with non-automated processes.
Map-a-Route's toolbox function also calculates the time and distance of each route to determine the amount of salt needed, while efficiency reports and data analysis also allow the council to forecast and manage salt stocks, as well as quickly find and monitor route efficiency and driver behaviour.
'Map-a-Route has made our service far more efficient, it's allowed us to provide a far better-quality service to our residents and visitors to the town,' said Simon Legg, street scene manager, BCP Council.
Mr Legg manages six lorries with five used routinely for salting and 20 drivers working on a rotational basis. It has a key route gritting network of some 500km or 38% of its total road network, although this has since increased as part of the new structure.