A new entrant to the electric vehicle charging market has announced plans for a £1.6bn investment programme to build rapid charging facilities across the country.
Pivot Power is hoping to build a world-first 2GW network of grid-scale batteries and rapid electric vehicle (EV) charging stations across the UK.
It plans to build battery parks of several acres that connect directly to the national grid along the strategic road network and major roads. Each park would have around 20-25 large batteries, which will be fenced in and housed within shipping crates.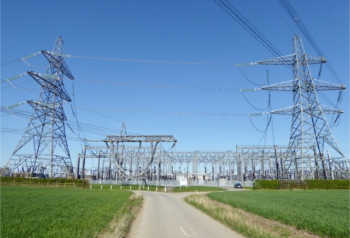 Once planning permission is obtained for these parks, Pivot Power would then seek planning permission for a connected fast charging hub, which could have with between 40-100 150KW charging stations and potentially additional retail facilities for electric vehicle drivers.
The core of Pivot Power's strategy is connecting batteries and rapid charging stations directly to the extra-high-voltage transmission system as the connectivity fees to electricity grids are a major cost.
Pivot Power is backed by Downing LLP, a UK-based investment manager that has funded over 100 deals into renewable energy investments since 2010.
Pivot Power plans to develop 45 sites around the country, installing grid-scale 50MW batteries. Anything above this threshold would take the scheme out of local planning limits and into national regulations - at electricity sub-stations connected directly to the extra-high-voltage transmission system.
The charging hub would ideally be within around 5km of the battery park, with a hard maximum of 10km to keep efficiency of transmission and distribution.
The charging stations could be located close to major towns however they would not be put in town or city centres. They would operate in a similar way to motorway service stations and could also be located at these or other out of town developments like supermarkets or park and ride facilities.
CEO Matt Allen said: 'We want to future-proof the UK's energy system and accelerate the electric vehicle revolution, helping the UK to clean up its air and meet climate targets. Big problems require big solutions, and we are moving fast to put in place a unique network to support a clean, affordable, secure energy system and embrace the low-carbon economy.
'We are keen to hear from anyone who shares our vision and wants to 'go electric', particularly partners with large fleets such as local authorities, supermarkets and logistics companies.'
Pivot Power has put in its first planning application in the last few weeks to Test Valley Borough Council for a battery park close to the M27 and suggests this site could be up and running next year.
It hopes to send out another batch of applications in the next few months, with operational batteries at 10 sites within 18 months. The entire scheme could take five years to deliver.
Graeme Cooper, national grid project director for electric vehicles, said: 'We expect the use of electric vehicles to grow rapidly. This innovative solution will help accelerate adoption by providing a network of rapid charging stations across the country enabling cars to charge quickly, efficiently and as cost-effectively as possible.
'It will also give the system operator more choice and flexibility for managing the demands in the day to day running of the network, and also help mass charging.'