From 2022 new cars, vans, lorries and buses sold in Europe could automatically prevent drivers from going over the speed limit, under a provisional EU deal.
The UK regulator, the Vehicle Certification Agency, has said it will mirror safety standards from the EU for vehicles in the UK regardless of Brexit.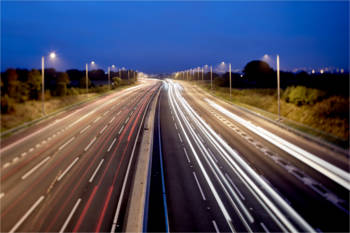 The Intelligent Speed Assistance technology is already available, though not as standard, and can detect the road a driver is on using GPS and sign recognition cameras then sound a warning before automatically slowing the speed, if the car is over the limit.
Drivers can override the device simply by pushing harder on the accelerator, preventing concerns over acceleration.
Volvo recently became the first manufacturer to announce it would limit the speed of all its new cars everywhere except German autobahns, although the limit would be 112mph, which is over the speed limit.
Campaigners said the move was one of the biggest leaps forward in road safety in 50 years and estimated it could save 25,000 lives by 2037.
A provisional EU deal was agreed by the European Parliament's Committee on Internal Market and Consumer Protection (IMCO) to approve a range of new vehicle safety standards initially proposed by the European Commission in May last year.
The legislation also tackles drink driving, making it easier to retrofit an alcohol interlock device – a technological solution for tackling repeat drink driving in use in a number of EU Member States.
Other new requirements include Black Box like Event Data Recorders, which store vital data on the car's status in the moments immediately before a collision and Automated Emergency Braking, which can detect pedestrians and cyclists, and would be fitted as standard for the first time.
Lorries will also be required to have improved levels of 'direct vision' to give drivers a greater chance of seeing vulnerable road users such as pedestrians and cyclists around the vehicle.
Antonio Avenoso, executive director of the European Transport Safety Council (ETSC) said: 'There have only been a handful of moments in the last 50 years which could be described as big leaps forward for road safety in Europe.
'The mandatory introduction of the seat belt was one, and the first EU minimum crash safety standards, agreed in 1998 was another. If last night's agreement is given the formal green light, it will represent another of those moments, preventing 25,000 deaths within 15 years of coming into force.
'Although this legislation was many years in the planning stages, there has been relatively little time for political discussions over its final shape.'
The package of measures needs to be ratified by the European Parliament, which is likely by September.
A Department for Transport spokesman said: 'We continuously work with partners across the globe to improve the safety standards of all vehicles. These interventions are expected to deliver a step-change in road safety across Europe, including the UK.'