Only a minority of the British public think enough is being done to protect road workers, a survey by pollsters YouGov has revealed.
The survey of more than 2,000 British adults found that only 42% agreed that 'enough is being done to protect roadworkers in the UK'.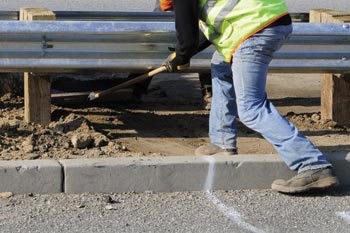 The figures were similar across the nations, but perception of safety was poorest in Wales at 39%. The South of England was considered safest, but still only had 45% of respondents saying they felt protection for roadworkers was good enough.
And almost a third (31%) of the public stated they have seen another motorist drive carelessly or dangerously past roadworks in the last year.
The survey was commissioned by highways workflow software specialists, Re-flow. The news follows a survey of road workers in Scotland, which found that one in four has suffered mental health issues as a result of abuse suffered on the job.
Working on carriageways next to live traffic involves a level of risk from the traffic moving around the work area. Incursions into sites are frequent, as well as verbal and even physical threats and assaults.
Re-flow's research with YouGov found that the predominant emotions felt by drivers and pedestrians when encountering roadworks was 'frustration' (32%) impatience (22%) and confusion (15%).
Mike Saunders, managing director of Re-flow, said the figures show the importance of educating the public as well as ramping up efforts to further reduce risk through safety procedures.
He said: 'One of the main goals of Re-flow software is to provide our clients with an immediate way to record details of any incidents, instantly report it to the right person to enable action to be taken and reduce the chance of any further or more serious incidents taking place.
'We have carried out this research survey to better understand how frequently our road workers are at risk and what the taxpayer feels about the level of protection and consideration operatives receive from road users. Improving the safety for roadworkers is something that is collectively the responsibility of all of us, including the workers themselves, so by giving them a means to flag an issue before it becomes an incident, is an essential function of Re-flow.'