The Road Safety Markings Association (RSMA) Annual Conference will take place on 21 November at the Radisson Blu Hotel, East Midlands Airport.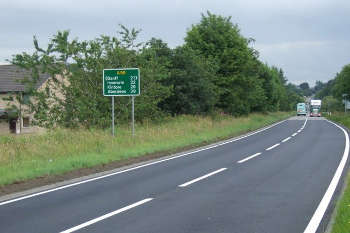 Open to anyone, RSMA members and non-members alike, this year's event boasts a major line up of expert speakers designed to 'drive, support and inform the continuous development of a successful industry'.
Under the theme of 'future-proofing your business', the conference will cover sustainability in its widest sense including environmental, social and economic aspects.
The programme covers:
The role of road markings in reducing emissions – Graham Edmond, head of sustainable engineering and climate change adaptation, Transport Scotland
Shifting demographics: Ensuring the road is safe for all users – Nick Lloyd, head of road safety, ROSPA
'Home Safe and Well' – Joe Docherty, HSEQ director, Amey
Importance of road markings for the future sustainability and viability of the highways network – Baroness Vere, parliamentary under secretary of state for transport, DfT
Men's health seminar – Chris Booth, clinical director, CHAPS
Legal obligations: Diabetes UK – Kate Walker and Andrew Litchfield, Diabetes Safety Organisation
Local road health-check – Steve Berry, head of Highways Maintenance, Local Roads, Innovation, Resilience, Light Rail and Cableways Branch, DfT
The cost of non-compliance – Paul Verrico, partners, Eversheds Sutherland
Asset management – Adrian Hull, strategic consultant for infrastructure asset management, Yotta
'Roads Collaboration Programme' – Angus Bodie, programme manager, Scottish Roads Collaboration Programme
After the conference, there will be the RSMA Awards 2019 and gala dinner.
The awards this year are:
Employee of the Year
Sustainability Project of the Year
Wellbeing Initiative of the Year
Innovation of the Year
SAP/Apprentice Certification
The deadline for entries is the 30th September, visit rsma.co.uk for more information on the awards or for an entry form.
The RSMA said: 'We aim to engage with the widest possible spread of companies and individuals across our industry and wish to extend an invitation to attend to any and all individuals with a professional or personal interest in road marking. More information on the conference can be found at rsma.co.uk, or contact cholmes@rsma.co.uk with any enquiries.'
This year the chosen charity for the event is RoadPeace, a national charity for road crash victims, including workers on the roads.
RoadPeace provides information and support to people bereaved or seriously injured in road crashes and engage in evidence based policy and campaigning work to fight for justice for victims and reduce road danger.