The Road Safety Markings Association (RSMA) has selected the British Board of Agrément (BBA) as the preferred approved body (AB) for the certification of road marking products in road trials due to begin in July 2022.
The RSMA has been working with Highways England for more than three years to secure access to a suitable site on the strategic road network for the trials, which would be the first conducted between the two organisations for well over a decade.
Following previous delays to the plans, the RSMA said in a statement it is 'cautiously optimistic' that the trials, conducted in accordance with BS EN 1824, will begin in July 2022.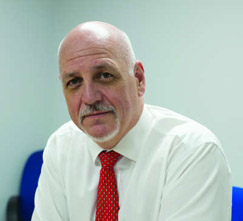 RSMA CEO Stu McInroy (pictured) said: 'The selection panel, made up of experts from across the RSMA membership, was impressed by the proposals of both the British Board of Agrément and BSi Group, and it was very difficult to separate them. I should like to thank both ABs and the selection panel for the work they have put in getting us to this point.
'Selection of the preferred AB partner is a big step forward towards the UK's first road trial for more than a decade, and the first in the UK to be fully compliant with BS EN 1824.
'I look forward to working with BBA to ensure the success of the road trials which shall ensure new, innovative products are available to the market, lead to safer roads for all users and better value for money for the taxpaying public.'
Hardy Giesler, CEO of BBA, said: 'We are delighted to have been selected as RSMA's preferred partner for Road Trial 2022, Certification of Road Marking Products.
'As one of the largest specialist trade bodies in the UK highways sector, playing a vital role in development of the road marking industry, the RSMA sits at the heart of driving collaboration and cooperation amongst all of its members within the industry towards creating safer roads for all users. The BBA is delighted to be working alongside them in supporting that vision.'
The RSMA said its focus will now turn towards possible changes by Highways England to the required method of certification mandated within the Manual of Contract Documents for Highways Works (MCHW).
This is following a survey sent out by TRL, Highways England's research partner in this area, which appeared to suggest there could be reforms to the key document in terms of testing new products.
The current version of MCHW mandates that road marking products must undergo road trials in accordance with BS EN 1824 prior to being installed on the SRN.
'This process is endorsed by the RSMA and road marking material manufactures, who consider wear simulators to be unrepresentative of the conditions products shall encounter during their lifetime,' the RSMA said.