A new conference on managing skid resistance hits the highways calendar this September, with a speaker line-up featuring some of the best-known faces in the sector.
Managing Skid Resistance UK – The Facts and the Friction - will take place in Reading on 14 September 14 with a programme focused on how best to manage skid resistance as part of a proactive maintenance strategy.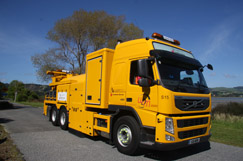 Speakers include Paul Boss, chief executive of the Road Surface Treatments Association (RSTA), Dr Suzy Charman executive director of the Road Safety Foundation, and Leigh Boswell, senior asset manager for highways and traffic at Transport for London.
Other key speakers include Dr Helen Viner, former chief scientist at TRL, HIghways magazine editorial board member and a director at Enodamus Ltd, as well as Becky Guy, the Royal Society for the Prevention of Accidents road safety manager for England.
This one-day RSTA conference is delivered in association with WDM and WJ Group. Main topics include:
The role of skid resistance in keeping roads safe
Delivery schemes that are consistently reducing carbon
What are your legal responsibilities?
Designing for skid resistance and how to choose the right materials
A new approach to skid measurement
Surface dressing, retexturing and predictive maintenance-an update
'Looking to the future' panel debate
You can view more details and book a delegate place at: Managing Skid Resistance UK – RSTA (rsta-uk.org)