The Scottish Government has launched a new round of funding to improve road safety in the country.
The £500,000 Road Safety Framework Fund aims to find 'innovative ideas' to encourage driving at appropriate speeds, tackle issues affecting drivers and better protect vulnerable road users such as cyclists and pedestrians.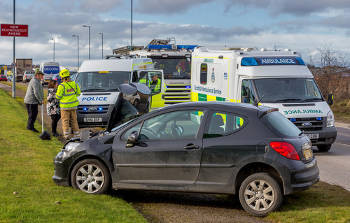 The cash was announced by Michael Matheson, cabinet secretary for transport, infrastructure and connectivity to support Scotland's Road Safety Framework to 2020, which seeks to steadily reduce the numbers of people killed and seriously injured on our roads.
Mr Matheson said: 'Partnership working is at the heart of everything we do and is key to supporting the delivery of our framework targets but we can't do this on our own. We want to encourage applications, which are innovative and demonstrate thinking outside the box so we can continue to push for greater safety on our roads.
'We owe it to future generations to keep striving for better road safety today so we can take another step closer to our vision of no-one being killed on Scotland's road and a greatly reduced injury rate.'
The fund is not intended for infrastructure projects. It seeks to target Priority Focus Areas in the Road Safety Framework for 2020, with the following outcomes:
Speed – increasing the number of vehicles travelling at appropriate speeds to help reduce road casualty numbers
Motorcyclists – improve safety for motorcyclists by reducing number suffering injury accidents
Age (pre-drivers) – improve knowledge, positive attitudes and safer behaviours on road safety
Age (17-25) – increase safer driving behaviours after passing test
Age (older drivers) – increase awareness and knowledge capability of older drivers and families so they can make informed choices about safe driving
Cyclists/Pedestrians – reduce casualties through good design, speed management, high awareness of and compliance with road traffic laws and safe practices by all road users
The fund opens on Monday (27 August). Applications are welcome from any organisation across Scotland looking to support road safety, before the closing date of 9 November 2018.