The Scottish Government has acknowledged it must work harder to develop a sustainable transport network after its attempts to persuade people to leave their cars at home made little impact.
According to Transport and Travel in Scotland 2017, cars and vans remained the most popular mode of transport, being used for 65% of journeys.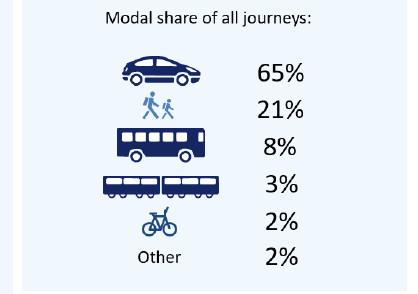 In around two thirds of car journeys, the driver was the only occupant of the car.
The statistics, published by Transport Scotland, include a survey of participants' travel on the previous day.
The estimated volume of traffic on the country's roads was at its highest ever level - 48 billion vehicle kilometres during the year, an increase on 46.5 billion in 2016.
Since 2013, relatively few people have changed the mode of transport they used to get to work, officials said. 'Of all the modes, driving seems to be most resistant to change.'
However, the percentages of people walking to work or school were the same as in 2016.
Michael Matheson, cabinet secretary for transport, infrastructure and connectivity said: 'The figures today highlight the work we must continue in order to develop a greener and more sustainable transport network here in Scotland. I am confident that the policies of this government will bring us closer to that goal than ever before.'
Officials pointed out that two national indicators generated from the transport and travel statistics do not feature in the new framework in the same form.
In each case, these indicators had worsened over the year, although officials said the small scale of the change meant that they would have shown 'performance maintaining' for 2017.
In relation to the target to increase the proportion of journeys to work made by public or active travel, the number of journeys taken by these modes fell from 30.7% in 2016 to 30.1%.
In relation to the target to reduce the number of driver journeys delayed due to traffic congestion, 12.8% of driver journey stages were delayed, up from 11.7% in 2016 and higher than the 2006 baseline of 12.7%.
The change in reporting comes after the devolved administration's introduction of a new national performance framework.
Traffex Road Expo Scotland and Bridges Scotland take place at the Royal Highland Centre, Edinburgh, Scotland on 31 October and 1 November 2018. For more information and to register for this FREE event, click here.