The Scottish Government has cut its match funding requirement for permanent active travel infrastructure after giving councils nearly £39m for pop-up physical distancing schemes.
Both types of infrastructure are funded by Sustrans through its £60m Places for Everyone programme.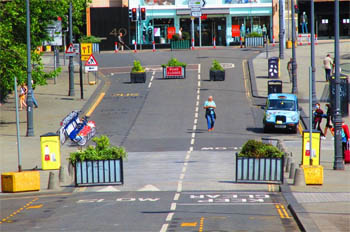 Transport Scotland said after the closure of the fund for pop-up schemes – known as Spaces for People – attention has returned to permanent active travel infrastructure in Scotland, 'both in terms of new schemes and, where appropriate, building on this temporary infrastructure'.
The Scottish Government is reducing the match funding rate for the programme from 50% to 30%, which means that successful applications will be 70% funded by it.
Michael Matheson, cabinet secretary for transport, infrastructure and connectivity, said: 'The Places for Everyone initiative is already producing some very innovative and ambitious projects – but we recognise that costs can be prohibitive for some councils and especially in the context of COVID-19.
'Many local authorities are keen to learn lessons from the temporary infrastructure delivered through the nearly £39m we have provided. With this improved funding offer for permanent schemes, councils will be able to match their insight with their ambition and deliver high quality infrastructure to help us build an Active Nation and encourage healthier and more sustainable travel.'
Glasgow city council said it has secured an additional £4m, taking the total amount it had been awarded through the Spaces for People programme to £7.5m. It said the cash will be used to expedite the expansion of temporary travel infrastructure projects that provide extra space for people to walk, wheel and cycle as lockdown restrictions ease.
Among other initiatives the council said clearance of overhanging vegetation that can narrow footways across city neighbourhoods has also been identified as a practical way to make it easier to keep a safe distance from others when travelling actively.
Other initiatives to be advanced include the expansion of School Car Free Zones.
Cllr Anna Richardson, convener for sustainability and carbon reduction said: 'Throughout the city we have been repurposing our roads and footways to provide extra space for walking, wheeling and cycling and help people maintain physical distancing during the Covid-19 emergency.
'The breadth of measures we've delivered so far shows our clear commitment to creating the safer spaces necessary to help people get on with their lives and accelerate our recovery.'