Kevin Gilday, SRL's new group product and compliance manager, talks to Dominic Browne about how the company has been leading the way in traffic signals for over a generation, all the while bringing innovations to the market.
Tell us the story behind the creation of SRL.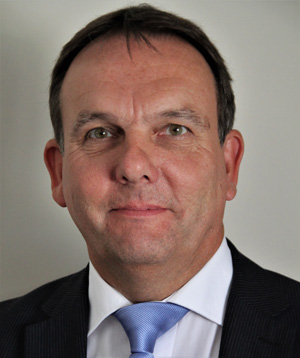 SRL was founded in 1997 in response to a gap in the market for a temporary traffic signal that did not rely on a backup power generator or require cabling.
The company went on to expand its portfolio, which now comprises VMS, CCTV and traffic and pedestrian signs, including the Urban64 traffic signal solution used to co-ordinate multi-directional flows of traffic and pedestrians; all are available for hire and sale.
In 2019, SRL undertook a management buy-out to support its growth plans. It is now the UK and Republic of Ireland's (RoI) leading manufacturer and supplier of mobile ITS equipment and integrated systems.
How many people do you employ and what is your turnover?
SRL employs more than 140 people and has a turnover in the region of £30m.
Where do you operate and what markets do you cover?
SRL operates in the UK and RoI and covers the traffic management, construction, events and utilities sectors.
What makes you stand out in the highways market?
Since its foundation, SRL has been a product development pioneer. In 2003, it developed and achieved type approval for the UK and RoI's first multi-phase temporary traffic and pedestrian systems and has since gone on to make a series of further groundbreaking innovations, thanks to its ongoing investment in product development.
SRL's fleet of mobile traffic signals is the market's largest. Its VMS are the newest, and its full-colour mobile signs are the highest resolution and the only ones designed specifically for use in the UK and RoI.
SRL has the UK and RoI's largest distribution network, comprising 30 depots, including the UK's largest. This facilitates swift and environmentally sustainable delivery by a fleet of 150 specialist vehicles.
The firm's expanding senior management team comprises highly experienced people who have worked in the ITS sector for many years. Its customers benefit from SRL's unrivalled level of industry expertise. SRL's customer service is second to none, and it is the only ITS manufacturer in the UK and RoI that is available to customers on site 24/7, 365 days a year. The majority of SRL's products are built using parts manufactured in the UK.
Can you tell us why you joined SRL and why you are proud to work there?
I have only been with SRL for some three months; however, I have been working for partners of SRL for 15 years, so SRL are not new to me. What makes me proud to have joined SRL is almost all based on quality: SRL has a reputation for both quality products and quality customer service.
Tell us about some of the innovations that SRL has brought to the market.
This spring, SRL launched Wave and Wait (pictured right) – the first contactless mobile pedestrian systems, allowing pedestrians to reduce their contact with surfaces that can carry the COVID-19 virus.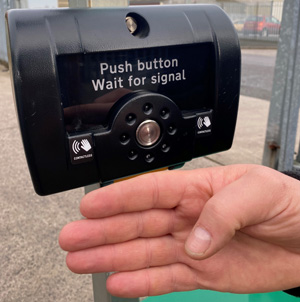 At the end of last year, SRL further developed the technology within its traffic light portfolio to include the new ADS detector to support local authorities and utility companies as they strive to reduce the level of congestion around their roadworks and cities. It is the industry's only multiphase adaptive detection system for mobile units.
It also enhanced its CCTV offer, with the introduction of the industry's first portable CCTV to provide not only a 360 degrees panoramic view but also a perspective of the 180 degrees beneath the camera.
Urban64 continues to be enhanced and is the only temporary traffic light solution to feature the same technology as permanent solutions, including MOVA and UTMC connectivity, and so provides a superior alternative to portable traffic lights or poles in barrels.
What interesting projects has SRL contributed to?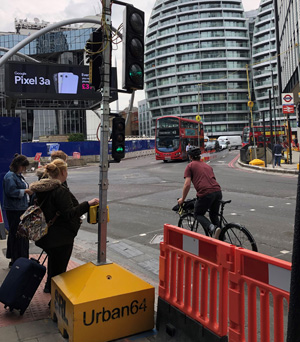 SRL's Urban64 is currently safely controlling driver, cyclist, and pedestrian movement through the complex and evolving site layout around London's Old Street station (right), as the site is upgraded by Transport for London to help reduce an historically high level of collisions, most of which involved vulnerable road users.
Dedicated cycle phases are detected by intelligent thermal cameras, with all cycle routes benefiting from low-level cycle signals.
The solution incorporates overhead power and data cables, precluding the need to maintain underground cabling while the new station entrance and road/junction layout are installed.
The flexibility of Urban64 enables the adjustment of the system in line with the various stages of development on this complex project.
What advice would you give to someone coming into the highways sector?
I would always encourage people to come into the highways sector, especially into the technology side of things. Few people really understand what is going on behind the scenes to keep the traffic, transportation and highways sectors going. There is far more technology sitting behind a set of traffic lights and VMS signage than most people would ever imagine, and then once this technology is connected to an area-wide system, it becomes a very complex, but powerful and interesting arena to build a career in.
What does build back better mean to you?
For me, it is about taking the opportunity to re-evaluate what is best in terms of the next steps in the UK transportation and ITS strategies. We have a window before life starts to return to the old normality to influence what the new norm will look like. Many issues and problems that we had with regard to our ability to change can now be potentially reconsidered, given the big changes that we have all been through.
Tell us about SRL's plans for the future.
SRL's journey has always been one of leading the way and being innovative, and this is a journey that I don't see changing. In fact, if anything, I see this accelerating, as both the SRL people and the portfolio continue to grow at a pace. The traditional fixed traffic control technologies and the temporary equivalents were once a long way apart, but we are now helping to bring these together, providing consistency and benefits when it comes to both the travelling public and the emergence of driverless vehicles.
If there was one thing you could change about the highways sector what would it be?
I believe that having, and retaining, technical knowledge and skills in the public sector, and in particular in the local authorities themselves, would help to maintain a more consistent approach and allow local engineers to take pride in local schemes. All too often, I am seeing schemes implemented where not enough consideration is being given to the local conditions and those that need to use the highways and the facilities provided on a day-to-day basis.
Tell us something about yourself that not many people know?
For nearly 30 years, one of my main hobbies has been getting involved with theatre, not actually on stage, but working on the technical side, including working in some of the largest theatres and venues on the south coast. This has mainly been working with children and young adults and has played a part in putting them on a big stage in a very technical production.