Last week, UK manufacturing giant JCB launched a new 'one machine solution' for roads and highways maintenance. Highways was there to give it a test drive.
Uttoxeter in Staffordshire is mainly known for two things – National Hunt racing and the nearby world headquarters of JCB at Rocester.
Staying in a hotel in the town, Highways was asked if the visit was for the races, which were on the following day. No, but it soon became clear that many of the other guests in the hotel bar were jockeys, at least one of whom had high hopes of his runner.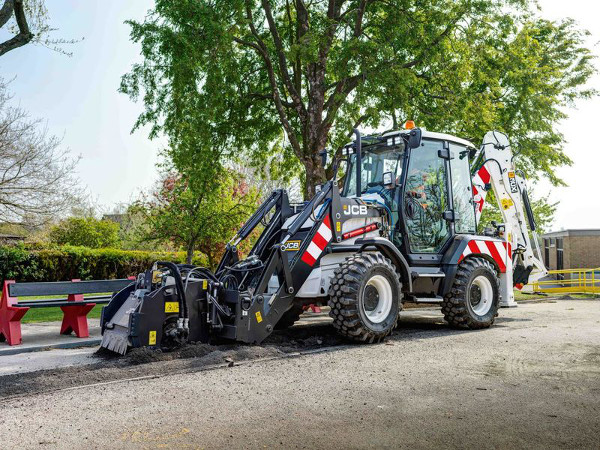 In fact, the purpose of Highways' visit was the alternative – a visit to JCB HQ for the launch of its 3CX Compact Highways Master, which replaces the 3CX Pothole Master (pictured). The visit began with a quick trip round JCB's highly automated and productive backhoe factory.
Hearing that Highways had been in the company of jockeys, the assembled press and PR people sought a tip for the day's racing. Highways demurred, on the grounds that a short-priced favourite gleaned in the bar the night before hardly qualified.
JCB firm says its new model will help the industry tackle the pothole backlog and has been designed to specifically meet the needs of highway contractors, local councils and rental businesses, having been developed over a three-year period with customers in the worldwide road maintenance industry.
The Highways Master is based on the 3CX Compact backhoe loader and differentiated from JCB's iconic yellow livery with a white with red chevrons livery, complete with Traffic Signs ManualChapter 8 safety decals.
A seven-in-one, single front multifunction joystick controls attachments on the loader arms, while the machine has a skid steer loader quick hitch on the front loader arms and a SMART attachment integration system, which allows automatic switchover of its electronics, to suit some third-party attachment operating systems.
The machine also comes with a periscope mirror as standard, to enhance front loader visibility, alongside front and rear view cameras.
An optional hydraulic quick hitch on the rear boom also allows rapid changeover between attachments while an optional external emergency stop button is fitted to the rear wing.
There is also significantly enhanced hydraulic power, with the front loader auxiliary lines now delivering 120 litres per minute of high flow hydraulic power, an increase from 70 litres per minute on the standard 3CX Compact
This allows the machine to operate road planer attachments of up to 600mm and for the machine to be used for larger resurfacing works, which JCB says will allow customers to replace standalone, dedicated 0.35-0.5m road planing and other equipment, saving on capital costs.
Mick Mohan, managing director of JCB's Backhoe Loader business unit, told Highways the firm had asked customers what size if planer attachment they would like and fitted the machine with the hydraulics needed to power it.
JCB says the machine will offer customers a safer two-in-one road planing solution, as the only model on the market that can be readily deployed for road planing applications with a 300mm rear planer as well as a 600mm front planer.
The firm's standard Powerslide side-shifting capability at the rear allows the operator to mill a square patch without having to reposition the machine. JCB describes this as an industry-first feature, enabling a cross cut within a single carriageway without the need for manual hand tools. In addition, depth control aims to improve operator accuracy and productivity.
The Highways Master is equipped with auto two and four-wheel steering and is supplied with Vari Speed PRO, providing independent and constant flow to the attachment, while maintaining a fixed hydrostatic travel speed.
JCB says this is particularly useful for planing and other high-flow attachment operations that require higher engine rpm with steady travel speeds.
Highways tested this functionality at a quarry site near JCB's headquarters, planing a strip on a specially constructed square of asphalt in heavy rain.
The Highways Master comes with integrated water tanks to provide dust suppression to both the front loader and the backhoe attachment – though this was hardly needed on the day in question as the heavens opened.
It also seemed unlikely that any racing was taking place.
Highways tested out @JCBmachines 's new 'one machine solution for roads and highways maintenance' at a quarry in Staffordshire last week pic.twitter.com/TlclQtTOb4

— Highways Magazine (@highwaysmag) June 10, 2019
With depth control and forward speed set, all that was needed was a little steering. What could go wrong? Invited to reverse to see the result, despite a rearview camera and mirrors, Highways drove the vehicle ever so slightly off the back of the square.
No harm done. After an excellent lunch and a whistlestop tour of the Story of JCB exhibition, Highways was whisked off to catch a London-bound train, checking the racing once on board.
It had gone ahead, despite the weather. How had the jockey's horse fared? Last of course.