Transport for London's (TfL) procurement of the £1bn Silvertown tunnel was 'flawed, in breach of the principles of equal treatment […] and manifestly erroneous', according to the legal case brought by rival bidders.
The award of the contract has been suspended after losing bidder Silver Thames Connect (STC) - comprising Hochtieff, Dragados and Iridium Concesiones de Infraestructuras - submitted a Part 7 Claim to the Technology and Construction Court.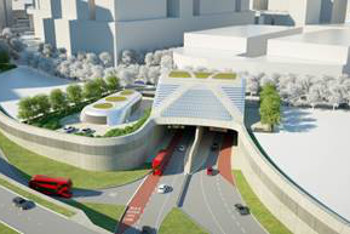 John Laing, which is also part of the STC consortium, is understood to not be a claimant in the case.
The Riverlinx consortium (consisting of Ferrovial subsidiary Cintra, Bam PPP PGGM, Macquarie Capital and SK E+C) was named as preferred bidder in May. However, the Part 7 Claim related to procurement automatically results in a legal suspension of the defendant's right to award a contract.
The court documents state that TfL gave price an 85% weighting on the overall procurement evaluation, with commercial submissions accounting for 10% and ground condition rates the final 5%.
STC scored the maximum 85% for price, while the Riverlinx consortium scored 82.34%, but still lost by just half a percent when all factors were scored.
A significant focus of the case could be the individual marking of the STC bid, with one assessor scoring it significantly lower than the other two.
STC was scored at 15 and 12 out of 20 by two assessors (Neil Chester and Chris Hemmingsley) but only 4 out of 20 by Andrew Lunt.
Mr Lunt cited an issue regarding crane location; however STC argue that this element 'did not form part of the Critical Consent required' and that 'Lunt's manifestly erroneous approach' should not have been followed.
'The Defendant [TfL] treated STC unfairly and/or unequally in comparison to Riverlinx and/ or in breach of its obligation of transparency in that it […] did not enquire into or evaluate Riverlinx's proposals for crane access for the footbridge,' the papers state.
TfL had nothing to add to previous statements regarding the case details, when a spokesperson said: 'We are disappointed that our reserve bidder, STC, has decided to challenge the outcome of our procurement process for the design, build, finance and maintain contract for the Silvertown Tunnel. We will respond to their claim in due course.'