Transport for London (TfL) is due to start construction work next week on the next section of a major new cycle route is South East London.
Sections of Cycleway 4, which will run from central London to Greenwich, have already been completed between Tower Bridge Road and Rotherhithe and on Creek Road in Deptford. Construction is starting on Monday on the next section of the route on Evelyn Street in Deptford, with work expected to be completed in spring.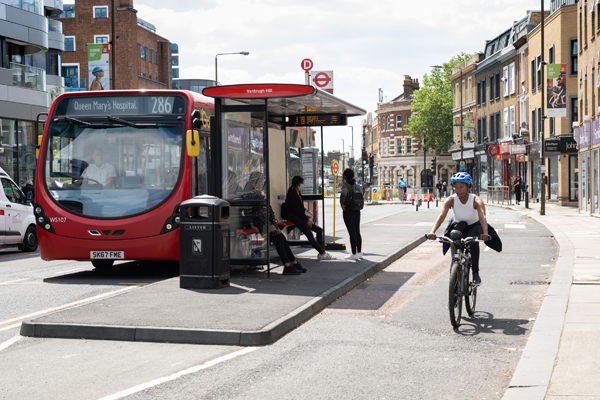 Extension to C4 on Trafalgar Road, Greenwich
The scheme will create:
1.4km of two-way protected cycle track
New pedestrian crossings at Gosterwood Street and Grinstead Road
Upgrades to existing pedestrian crossings at Oxestalls Road and Deptford High Street
Wider footways and a new public space at New King Street, with new trees and seating
Heidi Alexander, deputy mayor for transport, said: 'Thousands of people are already benefiting from new and upgraded cycle routes across London, and the next phase of Cycleway 4 will make a huge difference to those cycling around Deptford.
'Making it easier to walk and cycle in the capital is key to a green and sustainable recovery from the pandemic, and it's really exciting that this key route between central London and Greenwich is going to be improved.,
The route has previously been extended in both the east and the west, using what TfL described as 'trial measures' as part of its emergency response to the pandemic. A series of trial changes has extended the route from Tower Bridge Road to London Bridge.
Trial changes have also been brought in between Greenwich and Charlton, using cylinders to protect people cycling from motor traffic along a route that includes the Angerstein Roundabout, where a man was killed cycling in 2018.
Cycle route through Angerstein roundabout as part of C4 extension
TfL said it is continuing preparation work to start construction on a number of new cycle routes later in the autumn, including routes in Hackney, Tower Hamlets and Hounslow.
It added that since May 2020 more than 100km of new or upgraded cycle lanes have been built or are under construction, along with more than 22,500 square metres of extra pavement space reallocated for people walking.