Last summer, Cathy Travers became managing director of Mott MacDonald's UK and Europe business, making her responsible for more than 7,500 staff and annual revenue over £824m. She talks to Dominic Browne about leading a sector and inspiring her team.
The press statements say Cathy Travers began her career after graduating from the University of Sheffield in 1988 with a master's degree in civil and structural engineering. They don't tell the whole story, because she was born for this job.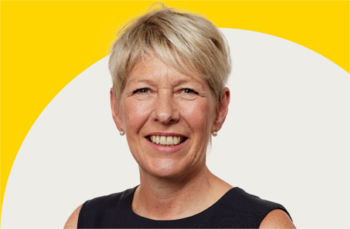 'I am from Blackburn, Lancashire, and my dad was the borough engineer. I'm one of five children with four brothers, and all of us went into engineering. But it was my mum who influenced me. She was a deputy head of a large comprehensive school and encouraged me to go do a degree in structural engineering. Growing up with four brothers, I have always had a high level of resilience.'
Ms Travers joined Mott MacDonald in 1990 after its acquisition of Husband and Company. She has held a range of operational and business development roles at the consultancy, including the role of managing director of its buildings and infrastructure business in the UK and Europe and as the region's business development director.
She now heads the whole UK and Europe business, which represents around half of the group's work, but her approach is still all about teamwork.
'We have a dynamic team with good diversity. My big priority is keeping our people safe, happy, healthy and engaged.
'I want people to feel empowered, that they have a voice and can contribute to the success of the business. Every day of my life I get up and think, "let's go for it". I want everyone to feel that they can make a difference. This is what creates an exciting, dynamic and more innovative company. Mott MacDonald is owned by its staff, so this is a big priority.'
Ms Travers has achieved success in a predominantly male sector and is keen to stress the improvements that have been made. She points out that women make up 40% of Mott MacDonald's graduate roles, and that the company has training programmes in unconscious biases and a mentoring system.
The difficulty is in retaining the gender balance throughout the life of a career after women take breaks for families, she argues.
'Our challenge is to attract women back into the business and attract them with agile and flexible working policies. I have implemented smart working, giving staff flexibility on how and where they work to give a better work-life balance.'
Ms Travers talks about the 'obligation to be leaders' and the important role the sector and the big players within it have in driving the country forward with a 'focus on social outcomes and how we can change people's lives'.
For its people, Mott MacDonald is making a big push on mental health, with trained mental health and wellbeing champions and for the environment, it is also making progress on lowering carbon emissions: 'I feel our staff relate to these things.'
The firm is part of an industry coalition driving forward the transport sector to net-zero carbon emissions that include major client bodies like Network Rail and Highways England.
'We can, as an industry, drive towards net zero. Contractors can make a difference if we can use our skills. There is already technology out there that we can apply. I don't think we have to go away and do lots of reinvention; it's about shifting the lens on how we make decisions. New procurement methods and new funding methods can enable these things.'
Ms Travers says the company is on target to achieve internal net-zero carbon emissions by October this year. Mott MacDonald's analysis suggests the company can reduce its carbon emissions by roughly half with the remaining amount off-set, ideally through forestation, or the carbon credit market and eventually through its own off-setting methods.
One tactic to reduce the carbon is to make sure all offices are powered with renewable energy – almost all its UK offices are now powered by renewable energy - and to encourage staff to cut their transport mileage.
'In less than five years we have seen a 92% reduction in terms of staff doing over 20,000 miles a year and reduced overall miles by 42%,' Ms Travers says.
A change like this takes strategy, clarity and applied learning from a variety of sources - essential aspects of the consultancy work Mott MacDonald specialises in. It also takes dedicated members of staff, and Mott MacDonald has a group sustainability manager.
The company is currently carrying out this type of transformational work as part of the sector's digital evolution.
'We are carrying out digital maturity analysis on clients, working with the Infrastructure Client Group. Our engineering knowledge, coupled with digital knowledge, is an exciting proposition – using this kind of technology to improve our efficiency of delivery whether through automated design or drones for surveys.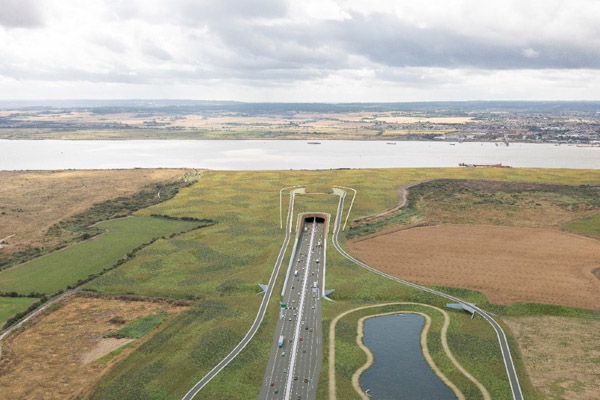 A computer generated image of the Lower Thames Crossing
'Our sweet spot is working on the major, complex infrastructure – that is what we are scrutinising and where we have a leading edge. I feel confident, as there is an exciting pipeline of work.
'I think we have a chance to win major opportunities and get exciting opportunities.'
One key weapon in Mott MacDonald's modern armoury is its partnership with Microsoft. The two have teamed up to create a cloud-based smart infrastructure platform that will use 'asset performance modelling, advanced analytics, and artificial intelligence'.
The system is designed to help asset owners, cities and governments by assisting with decision-making and asset management.
As part of the arrangement, Mott MacDonald will move its cloud-based analytics and digital twin platform – named Moata – to Microsoft's Azure.
The Moata platform is already being used by the city council in Auckland, New Zealand, to improve the accuracy of water quality predictions and the associated public health risk from less than 20% to greater than 80%.
Ms Travers says this platform is 'incredibly exciting' and can help optimise solutions. She relishes the thought of getting Mott MacDonald's teeth into the big projects that could be coming up, such as the Lower Thames Crossing, Highways England's second Road Investment Strategy, and particularly, the Northern Powerhouse and HS2 plans.
'As a northerner, I am passionate about investment in the North for the good of the industry and the country.'
If Ms Travers can play a key part in transforming the North's infrastructure, her career will have nicely come full circle, and her passion will have been the driving force behind the journey.