According to the Department of Transport, there were over 150,000 casualties in reported road traffic incidents in 2019, and 1,752 of these were fatal - make no mistake, keeping our highways and roads safe is still our most important job.
We are all too aware that the highways workforce faces regular danger. While they carry out their day-to-day job, they are at the mercy of drivers.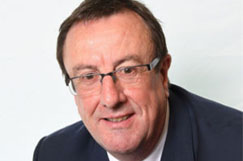 In partnership with the former HTMA, Highways magazine was the first to campaign for extra protections for our workforce and raise awareness of the threats and, sadly, the abuse our workforce often faces.
Between October 2017 to October 2020, National Highways revealed that there were nearly 6,500 incidents of incursions (vehicles entering roadworks areas), which is a staggering average of 175 times a month.
Incidents like these put highways workers at real risk on an alarmingly regular basis.
It is vital that they don't become one of those shocking statistics.
In recent years, many advances have been made in technology that allow the industry to be innovative in regard to safety.
In my role as chair at NYHighways, the management team and I take the safety of our employees, as well as that of the public, incredibly seriously. Our internal motto is to 'go home safe, go home healthy' - our staff are encouraged to be vigilant to keep themselves out of danger's reach in order for them to return home to their families and loved ones at the end of a long working day.
On launch, NYHighways was proud to be the first local authority highways fleet to use reflective logos on our vehicles, giving them extra visibility at night, particularly on the rural country roads in North Yorkshire, where we are based.
This is in addition to a number of safety features on our vehicles that help increase the visibility of cyclists to our drivers.
I work closely with Ross Bullerwell in two capacities – we both sit on the Local Council Roads Innovation Group's Innovation Board and Ross is the managing director of NYHighways.
He would want to be the first to tell you that NYHighways is investing in safety and in providing the workforce with the right resources by providing the absolute best in PPE for individuals and by being prepared to trial some of the latest safety innovations, such as those presented to the LCRIG Innovations Board.
Safety reporting for near misses
One of the issues that we wanted to solve was the potential under-reporting of near misses as this data is so fundamental in helping us to design more effective safety processes.
All near misses and incidents need to be reported, from the minor to the serious.
As our operatives are on the roads throughout their working day, the reports can sometimes lack critical detail in view of a whole host of circumstances, not least the harsh environment that the British climate can create.
With this focus on safety innovations, we have started using the Connected Safety Net app, which was a perfect fit for NYHighways. We are proud to be the first highways company to use the app. Ross is excited by the efficiency the app will bring to incident and accident reporting.
The Connected Safety Net app slots into our operations seamlessly, allowing us to send and receive reports of incidents quickly and efficiently.
In turn, we can reduce these incidents in the long run and ensure the safety of our employees when they are at work.
By allowing users to upload pictures, videos, CCTV and even audio recordings for those that do not want to type out the report, the Connected Safety Net app allows incidents to be reported quickly and easily.
The app even works offline, which is an invaluable feature to our staff who often work in remote, rural locations with low connectivity.
In addition, the app can use third party machine learning and has the latest AI technology, which allows automated near miss reporting, ensuring a focus upon accident prevention. This is another first for a local authority highways business.
The only way to truly evaluate the effectiveness of the app was to trial it and ask the user.
John 'Jock' McDade is an area manager at NYHighways who was responsible for the initial testing of the app and spoke highly of his experience.
'I enjoyed trialling the Connected Safety Net app and it's definitely the way forward in my opinion. It's extremely user friendly and when using the voice function, it even dealt with my regional accent fairly well on most occasions.
'On the odd occasion it didn't, it was probably more my fault than the app's as I have a very strong Scottish accent!'
Through LCRIG we continue to encourage innovation within the sector and have supported some organisations with funding to help small companies speed up the development of their product or service.
Other companies haven't needed funding but simply guidance on how to break through into the market – some SMEs see this as an impenetrable barrier.
Trial, trial and trial again
The LCRIG Innovation Board recently invited 21 SMEs to give a 15-minute pitch concerning their innovation and to share with us how they thought we could help. One of these companies was Connected Safety Net.
As the pace of technology continues to increase, I have no doubt that we will be presented with new innovations on a regular basis – we just need to be brave enough to trial them.
We need organisations to be prepared to step up from time to time and be first as opposed to expecting others to take all of the risks – if no one ever went first, nothing would ever change.
In conclusion, the Connected Safety Net app is a great example of how we can encourage collaboration between different parties in order to help us innovate in the industry - something that NYHighways have strived to support and achieve from the beginning.
This partnership won't be the last we see at NY Highways, so watch this space!