Highways columnist Martin Duffy tell how being passionate about all things highways helps with his (other) three key positions in the sector.
All change…
For those who know me, hopefully you will agree I am passionate about all things highways. Despite the failings in our sector, I never like to dwell on the past and I'm reluctant to highlight issues facing us in the near future without offering up a potential solution.
Maintaining such a positive outlook isn't always as easy as it might seem especially when trying to reconcile so many conflicting views across the stakeholder groups that fund, manage and maintain the UK road network.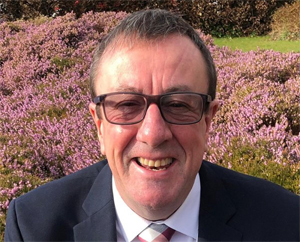 I recall my very first article for Highways magazine in 2019 where I highlighted my frustration with the pace of change in relation to innovation and subsequently shared my concerns pertaining to the loss of control of the highways function by some clients. And, I was only prepared to highlight these issues as I knew the industry only needed a little encouragement to nudge things in the right direction.
Since that first article I have taken on the roles of CEO of the Local Council Roads Innovation Group (LCRIG) and the chairman of North Yorkshire Highways (NYH), both of which are providing me with an opportunity to drive change from the top by developing mechanisms that encourage innovation and by embedding processes and delivery structures whereby a local authority is able to regain full control of its highway services.
As part of LCRIG, we have established an Innovations Forum consisting of DfT, local councils, utility groups and the private sector. This forum is facilitating the introduction of innovative products and processes that will dramatically increase the interaction between clients and SME's who are often the instigators of innovation.
The route to market for many SMEs has proved somewhat difficult in the past, which is why LCRIG ran a simplified procurement process resulting in a four-year framework providing access to a number of SMEs by all English authorities.
The framework is based on councils being best placed to identify the right time and place for interventions but on the SMEs designing the optimum solutions. This represents a radical shift based on current practices and is already delivering results in terms of a shift from the more traditional repair methods to ones that promise to provide greater value for money.
I consider myself fortunate to be joining NYH at a point just prior to going live with a 'Teckal' company that has been designed to improve its highway maintenance services. This type of model is not new to the authority as it currently runs a number of services, including waste, property and legal, under similar arrangements that form part of the Brierly Group.
Under the direction of the MD, Ross Bullerwell, NYH will be responsible for delivering the highest standard of service to the residents of North Yorkshire by removing certain contractual constraints that can sometimes hinder the ability to make quick, customer-focused, decisions without incurring contractual penalties. It is this type of flexibility that so many local highway authorities are now looking to embed in their own arrangements.
However, not all authorities are in a position to run and manage the full range of highways service, particularly those that have been outsourced for a number of years, but this is not stopping them seeking some degree of self-delivery, albeit on an incremental basis. These clients are looking to explore what the benefits might be of a more balanced service delivery model as opposed to either one or the other.
It is worth pointing out that I remain a firm believer that the private sector has a significant role to play but the dynamics are changing and over the next 10 years or more I believe we will see fewer fully integrated service delivery models coming to market.
If I'm right, the market will continue to change and everyone of us involved in highways will need to adapt.
On this assumption I have just been involved in establishing a new consultancy called DMsqd, with my ex fellow director, Dave Merrick, and the procurement/contract expert, Andrew McKie.
The collective skills we possess are impressive, but then I guess that's what comes with age! The company formally launches next week but this hasn't stopped us from talking to some clients whom we know are already very interested in rebalancing their service delivery.
On a personal note, I'm delighted with the three key positions I hold as there is so much synergy and learning between each of them. Significant elements of my role with LCRIG will be equally relevant to NYH and vice versa with the same being true of any authorities DMsqd work with on regaining more control of its highway function.
By working with great people in each of these three roles I will hope to be in the privileged position of providing the best possible advice and guidance to enable these clients to deliver their objectives.