Transport for London (TfL) is marking the 150th anniversary of the world's first traffic light by highlighting how it makes signal controlled crossings better for pedestrians.
The original traffic light was installed outside the Houses of Parliament in 1868 to help people cross the road safely. The railway style gas-powered six-metre signal was removed after a month, when a policeman was seriously injured in a gas explosion and traffic lights did not return to the capital until 1926.
TfL is currently working on reducing waiting times and providing more opportunities to cross the road, particularly near schools, shopping centres and transport hubs, in order to save 15,000 hours every day for walkers, cyclists and bus passengers.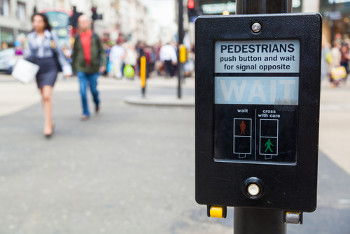 The authority said this will help reduce road collisions as part of the mayor and TfL's 'Vision Zero' work to eradicate death and serious injury from the roads. As around 85% of pedestrians cross within 30 seconds of arriving at a crossing, reducing wait times 'where possible' encourages people to wait for the green man, TfL said.
Highways understands that the changes include shortening the time between pressing the button and a green man phase both where there is no minimum interval between green man phases and where there is a minimum interval.
In the latter case, shortening wait times could have implications for traffic flow, if traffic is stopped more frequently, as will allowing pedestrians to bring forward crossing phases where facilities fall within traffic phases at junctions.
Changes also include improving the link between the timings where crossings are split into two, to avoid pedestrians having to wait in the middle island.
TfL said it recently worked with charity Living Streets to review 12 crossings in London, 'saving people crossing an average 29 seconds each time'. Following the retiming work, volunteers from Living Streets spoke to nearly 4,000 people and found that most had noticed and welcomed the change. One comment was that the 'lights have changed in favour of pedestrians'.
Richard Lambert, London manager at Living Streets, said: 'More time to cross at light-controlled crossings and shorter waiting times can help people walking feel safer on our streets and not like they come second best to traffic.
'It's hard to know which places need better crossings; that's why it's important to engage with local residents to identify issues.'
TfL said it reviews 1,200 traffic lights across London each year, adding that its Walking Action Plan, which was published earlier this year and outlines how London will become 'the world's most walkable city', includes green man authority, a signalling technique that gives pedestrians priority by lighting the red man only when an approaching vehicle is detected.