Geographical, topographical and financial risk mapping lie at the heart of local resilience, Worcestershire CC senior programme manager Ian Bamforth has explained in a crash course for ADEPT.
Speaking at the autumn conference of the council directors' association, Mr Bamford outlined the ways in which his council is prepared for the worst, including the extensive flooding risk posed by the rivers Severn, Avon and Teme.
Flood zones have been created involving Environment Agency 'third generation maps' and the council has also looked at areas where 'the soil and geology type is likely to subsidence and heave'.
'We have 1,560 flood spots and 135 of those we have to keep and eye for the resilient network and key locations,' he said.
Mr Bamforth also stressed that 'saturated ground means this is something we have to look at for groundslips'.
On top of this the council has 'overlayed the highways GIS [Geographic Information System data] to understand how that might create an issue in impact areas'.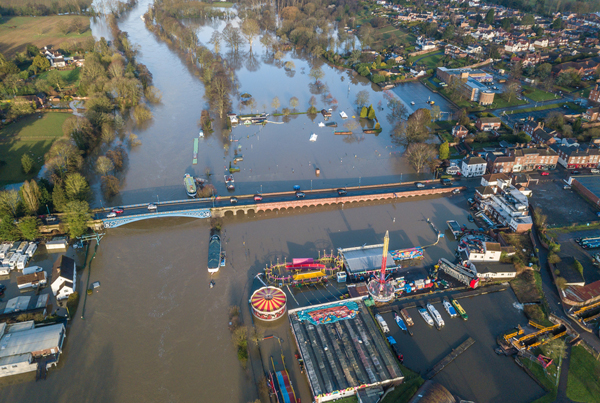 Stourport-on-Severn, Worcestershire 1 March 2020
When it comes to winter service and creating a resilient route network - key routes that must be kept clear of snow and ice - the council even looks into the detail of the road's topography, direction and exposure to the sun.
Optimised drainage
Working closely with contractors Ringway, the council has organised an extensive highway drainage improvement programme and has invested £10m over the last six to seven years, with more than 650 schemes completed.
As part of the wider drainage strategy Ringway has worked on 'an optimised system only servicing when needed because we have sveeral years records'.
The contractor is inspecting 60,000 gulleys in rural areas and on A, B and C roads to bring about the optimised system, 'so standard water issues will reduce'.
Worcestershire CC is also looking upstram to prevent the flooding through water course management.
Together with the Environement Agency and central government, the council has 'a three year role looking at upstream to reduce amount of water on the road'.
'We have a "natural rivers and brooks officer" working with different partners and landowners to slow down and store rain on surface water coming off land.'
The FIMT
One of the jewels in the crown for Worcesterhsire, is the council's Financial Impact Modelling Tool (FIMT), which is cross-referenced with the public enquiry management system to show the budget implications of severe weather over a number of winters.
The FIMT is build on a comprehensive database of historical schemes and performance data for the carriageway asset, including treatment strategies and their longevity.
The council's 2018 asset management plan states that FIMT 'enables the future condition of any class of road to be predicted given a particular level of funding and helps the council to understand and manage risk in terms of asset deterioration in relation to required funding'.
'FIMT is also extremely valuable to aid investment decisions when discussing future funding requirements via our Corporate Planning process with senior county councillors and senior WCC officers, as it helps to clarify the risks involved around funding levels and methods of management and repair from an asset management perspective.'
Mr Bamforth stated that alongside all of this is the council's climate strategy, development control and spatial planning.
'Working with planning colleagues it is important that new developemnts have sustainable drainage schemes as much as possible. We also consider existing drainage and also look at longer-term spatial planning.'