A £61m new flyover on the A46 in Coventry is set to open later this week as the Commonwealth Games begin in the region.
The new 14,000-tonne flyover at Binley separates long-distance from local traffic, including people visiting the Binley Mega Chippy, now famous as the subject of a viral TikTok video.
The new road is set to open to traffic by 6am on Friday although there will be a temporary 40mph speed limit, with two lanes open in each direction while work takes place elsewhere on the structure.
National Highways' regional director for the Midlands, Andrew Jinks, said: 'We're all excited to see the Commonwealth Games taking place in Birmingham and the opening of the new £61m flyover at Binley is a fantastic milestone to mark the occasion.
'We know that people will be travelling from far and wide to come and witness sporting history and we expect the roads around the Midlands are likely to be busier than normal.'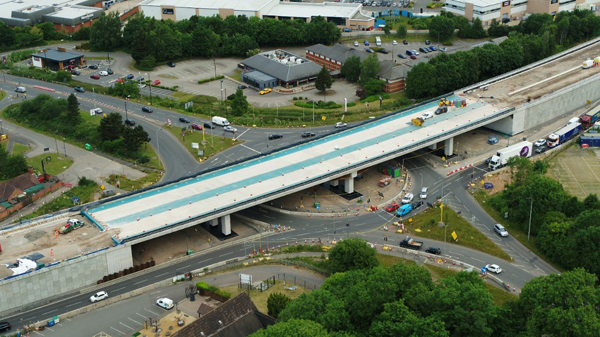 Work will still be taking place at Binley until Autumn with slip road closures required while teams complete the final stages of the project.
Work on the scheme, which is part of National Highways' A46 Coventry Junctions upgrade, began in 2020.
Last month, the company announced option 11, which would provide a new fully grade separated junction approximately 800m north of the existing junction, as its preferred route for the Walsgrave junction.
National Highways said it has lifted or rescheduled other road works in the area to reduce disruption during the Games, which start on Thursday.