UltraCrete has teamed up with 'Mr Pothole' AKA Mark Morrell to promote National Pothole Day on Wednesday 15th January 2020.
The gang will be travelling to London to take the war against potholes to the heart of central government with a stand out event, details of which are being kept secret until closer to the time.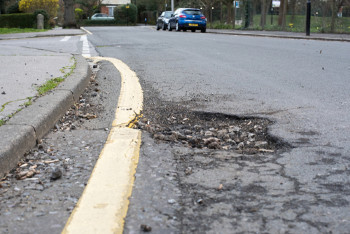 The aim is to secure more funds to help local authorities tackle this national road crisis permanently, as well as raising awarness of the need for repairs 'of a permanent nature and education surrounding their effective delivery and execution'.
The investment shortfall in road maintenance has created a backlog close to £10bn across England and Wales, according to some estimates.
UltraCrete - a multi award-winning market leading specialist in the manufacture of bitumen based road repair products - highlighted figures which suggest over the past year nearly 700,000 new potholes were reported on the country's highways.
Richard Moss, UltraCrete national sales manager said: 'It's important that as well as securing additional financial support from the government, our campaign helps us to work together with local authorities to utilise any funding provided to the fullest. Manufacturers like us, need to help share the road repair responsibility.
'We can do this by passing on our expertise via best practice guidance and road repair training. To help local authorities further, it's also critical we ensure the products we provide are trusted permanent solutions, not just quick fixes. We work closely with the relevant associations and seek third party testing and approval, such as HAPAS and PAS, to ensure our products do just that.'
Mr Pothole commented: 'It's fantastic that UltraCrete have come on board to spearhead National Pothole Day. They are a trusted market leader in both thought and product, but are also extremely switched on to local authority needs. One of the reasons I wanted to work closely with them is that they are keen to work in unison with local authorities to help them confidently plan permanent repairs, this holistic approach is a critical factor in ending the pothole backlog.'
As well as the event in London on 15th January 2020, UltraCrete will also be providing an Awareness Day at their state of the art facility in the West Midlands on 14th January 2020.